Here's the Twitter hack that lets ANYONE write 280 characters tweets using a free piece of code
---
Twitter is currently testing doubling its character limit for some users. Twitter says increasing the limit will allow users around the world to share more. The 280 characters tweets feature was rolled out on trial yesterday to a limited number of users. But coders have already found ways to enable longer tweets on any account. Dutch Twitter user @Prof9 created a bit of code that forcibly enables the feature for Google Chrome desktop users.
Twitter said: 'We want every person around the world to easily express themselves on Twitter, so we're doing something new: We're going to try out a longer limit, 280 characters tweets, in languages impacted by cramming (which is all except Japanese, Chinese, and Korean).
'Trying to cram your thoughts into a Tweet – we've all been there, and it's a pain,' said Aliza Rosen of Twitter, announcing the tests.
Here's how to write the 280 characters tweets
Step 1: To run the code, first install the script reader TamperMonkey, a top-rated userscript manager, from Google Chrome's web store. The software is used by millions of people to make quick and simple changes to web pages and is safe to download.
Step 2:  To access @Prof9's code, Click here to visit the GitHub page containing @Prof9's script, amusingly called Twitter Cramming. Which he has posted for free on the database GitHub.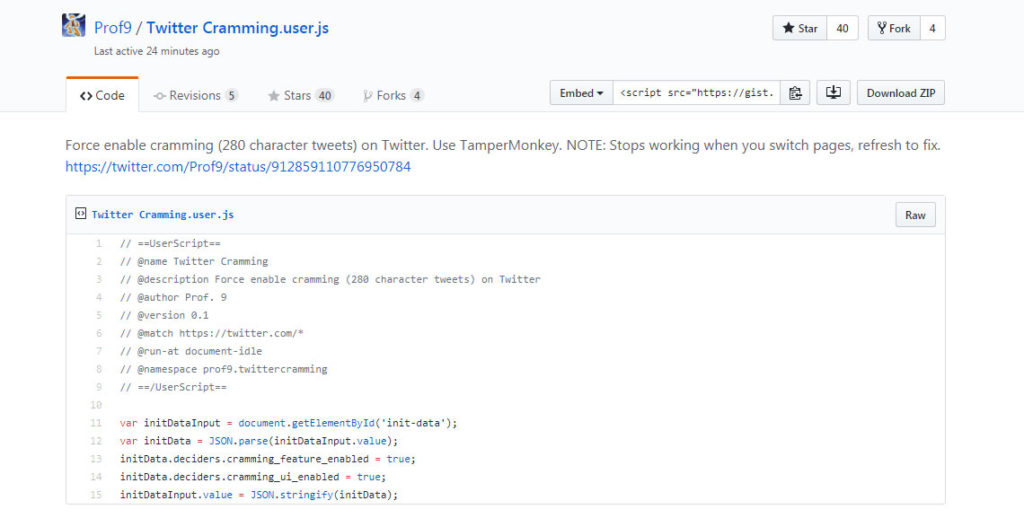 Step 3: Click the Raw button to install the script. Don't be surprised if it seems nothing happened, or if clicking the TamperMonkey icon in your Chrome toolbar reveals no scripts running.
Step 4: Head to Twitter — and tweet! Your character counter will stay frozen at 140, but you should be able to type a full 280 characters (at which point you'll see the usual red "you've gone too far" indicator).