Here are 10 Best productive apps for college students – app for everything that college student need
---
An app for every occasion – taking notes, boosting your memory, time table management and catching up on sleep. Technology has made lives faster and simpler. Most people today own smartphone tablets and other gadgets, but their use goes much beyond mere communication. Here are 10 Best apps for college students to download.
Today there are numbers of apps that help in simplifying even the most difficult tasks. Besides entertainment, these 10 apps provide you with information on the go, assist you in studies and even help you complete assignments and much more.
10 apps college students should download
Evernote
Pocket
Pushbullet
Forest – Stay Focused
Google calendar
Twilight
Vocabulary Builder by Magoosh
TED
Crownit

Anki
1.

Evernote
A note-taking app that spans all platforms, Evernote has slowly, yet steadily, evolved into the most preferred note-taking app for students and professionals. With tonnes of unique features, it can almost eradicate your need of having a physical notebook. Evernote not only saves woods but also organises note for you, especially when you need them just before your tests.
2.

Pocket
The Internet is often likened to a big book, and just like a book, you will have a hard time looking for a certain passage or page if you hadn't bookmarked it. In comes Pocket, the way to bookmark things on the internet, be they videos, images, passages or entire websites, Pocket is your metaphorical shirt pocket where you can keep or save all those treasures that you downloaded from the internet, things that you wish to go back to time and again. It is a service that helps you keep track of your bookmarks and protects them from getting lost.
3.

Pushbullet
In this day and age, we carry several devices. To be at our productive best we need them all the time. Pushbullet is one such app that can help your phone send not only texts, links and media across to your desktop but it also 'pushes' all your phone notifications to your desktop so that you can complete your work using just one screen.
4.

Forest – Stay Focused
A useful app that tackles one of the toughest problems that we face-ability to concentrate. It helps you get rid of phone addiction and stay focused on the important task. Whenever you want to focus on your work, you plant a virtual tree using the app. In the next 30 minutes, it will grow while you are at work. In case you are not working, the tree will be destroyed.
5.

Google calendar
Probably the most underrated web service, a good calendar service can do wonders to your productivity. After installing, using and subsequently deleting thousands of calendar applications, this writer has come to the conclusion that the Google Calendar is the best one out there in the world wide web, probably even better than that wall calendar in your room. It can sync with all devices and can even be shared among family and friends. You can manage several different calendars and view them individually or collectively. This is perhaps the best thing you can use to help you organise your college life.
6.

Twilight
Tired after a day spent discovering new apps? This brilliant piece of software turns down the blue lights that are emitted from your phone. For those who are not aware, these blue light photons that harm your sleep cycle and overexert your brain. So, at the end of the day, try and turn off that blue light in your phone and sleep peacefully so that you wake up energetic the next morning, ready to go for an even more productive day ahead.
7.

Vocabulary Builder by Magoosh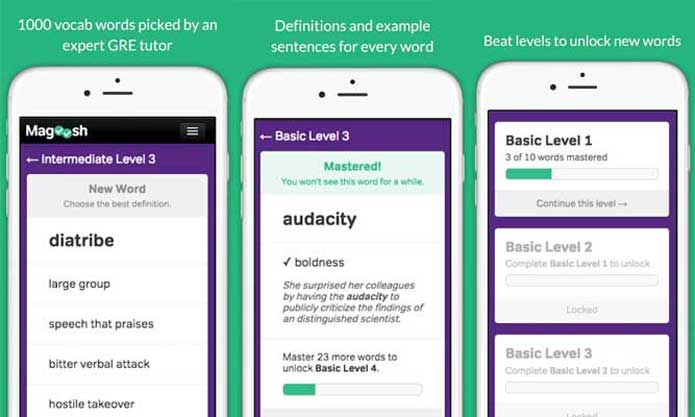 There are tonnes of vocabulary building applications on the internet. Why is it important, you ask? Every college student worth his salt knows that improving English proficiency is essential to moving ahead in professional life. While you can get any vocabulary-building app, I suggest this one in particular because it has a smooth interface and the words become difficult as you discover more of them.
8.

TED
The most acclaimed name in knowledge dissipation on the internet, TED is an organisation that gets personalities from all walks of life, from around the world, to deliver talks. A great place to learn about new ideas and learn from mentors, it provides food for thought. Each TED Talk video is a gem in itself.
9.

Crownit
While all web applications are designed to help in your professional or academic sphere, this one concerns the wallet-conscious consumer. This app rewards you with points whenever you eat out, All that you just need to do is click a photo of the bill that the waiter serves at the end. These reward points can then be redeemed for phone recharges and discount coupons.
10.

Anki
It's is a flashcard software with spaced repetition. In other words, it helps you Learn facts easily and effectively. Available on your desktop, android as well as on iOS, this software makes learning even the boring lesson easy by simply recording and the repeating flashcard accordingly. It is a program which makes remembering things easy. Since it is a lot more efficient than traditional study method, you can either greatly decrease your time spent studying, or greatly increase the amount you learn. If you need to remember things, you can use Anki. It supports images, audio, and video and can help you with various things such as learning a language, studying for medical and law exams memorizing name and face and even practicing guitar chords!.
Good Luck! 
 If you liked this article, then please subscribe to our YouTube Channel. You can also search for the latest tech news and follow us on Twitter, Facebook, and LinkedIn.