Sarkari Avedan Review: 
An Ultimate Service and the Best Way to fill out a job Application Forms
---
"I have problems in filling in the Online Application Form. What should I do ?, Can Anyone help me, When I fill the form and click on final submit, the form is open but no record is displayed," Are you facing these Problems? Aspirants facing a tough time in filling the online forms for those here is An Ultimate Service And Best way to fill out a job Application Forms: Sarkari Avedan.
In this Era of the Internet, Everything is done online. Booking of Hotel tickets, Paying Bills, Transfer money etc. Similarly, we apply for Jobs Online. But, Application Form which is not user-friendly can cause a lot of issues for the students/ parents while filling it online. Isn't it?
The reason behind to not fill the form on time are many like:
Major problem is in poor web site design.

Internet Connectivity.

Server Issues(Not Responding).

Unaware about the Jobs and their Forms.

Couldn't Find the right Link of Form.

Unavailability of Cyber Cafes(hard or impossible to get). In case, we reach there, Anyhow find a long or queue of applicants who are already waiting for filling their form.

High Fee charges are taken by the cafe for filling the Forms.
Yes, Filling out forms online sucks! And on mobile devices, it sucks even more. So, If in case you think to fill the forms by your phone, it is not possible as there are many steps to follow.
Now, Let's Think about Poor Peoples – How many forms are filled out each day across the web? Billions of them, for sure. From small household blogs to government portals, it's hard to imagine a website not having at least one form.
We heard about so many news About those unlucky students who miss their Admission, Jobs, Selection etc just because of the struggle with the Online Application Form.
For Example:
DU Students, They wait a long for taking admission in DU. What they face? facing problems while uploading certificates, calculating cut-offs and submitting the forms.
Below is the news published by "India Today" about the DU aspirants struggle with online registration forms.
Applicants are asked to upload our certificates of past three years. But there is just a single slot to upload the same. It is difficult to upload the documents at a go as the server is down most of the times," said Shivika Singh, an aspirant, who is applying through sports quota.
Considering the struggle behind filling Online Application, For All those Aspirants I recommend to Go with Sarkari Avedan- An Ultimate Service And Best way to fill out a job Application Forms.
Sarkari Avedan
Sarkari Avedan is the Best Service or Platform to Fill all application form. The speciality of this platform is this that It helps you in both situations, when you are looking for Jobs, Vacancies, University Admission and Fills your forms in single Click. Means, All you need to go on Sarkari Avedan website, click on the form which you want to fill and you are done.
There is no hassle like standing in a queue, waiting for a long time, No delays, No need to deal with the poor UI of the website etc.
Features of Sarkari Avedan:
Get Complete Solution To Fill All Online Form On One Platform.

Collect all enquiry and details regarding All online Forms.

They provide the best service that Not stops Applicants to fight in Competition. No more dependent on Cybercafe.                     

Save time and Just Submit All Types of Form In One Click.

No struggle, we provide Cheaper, Faster and Secure process.
Let's have an eye on Steps to fill the form by Sarkari Avedan:
Steps to fill form by Sarkari Avedan
Go to website – Sarkari Avedan
Search For Jobs
Registration
Payment
1.
 Go To Website – Sarkari Avedan 
All Applicants need to go on the link of Sarkari Avedan, which is provided above. The link takes you to the new window where you see the page like the image below.
2.
 Search For Jobs
Ones you reach the Home Page, Scroll down you see Latest Jobs, Admit Cards and Results. Now, Choose the Application Form which you want to fill and click on it.
A new window will open where you see the details of that Form. Suppose you have chosen IBPS PO VIII Recruitment 2018.
In the above Image, you see the Apply Online link and Apply through Us link. When you click on Apply online link it will take you to the Official website from where you can check or find the link for filling the form
In case you choose, Apply through us link It will take you to the Registration page for proceeding to the next step.
3.
 Registration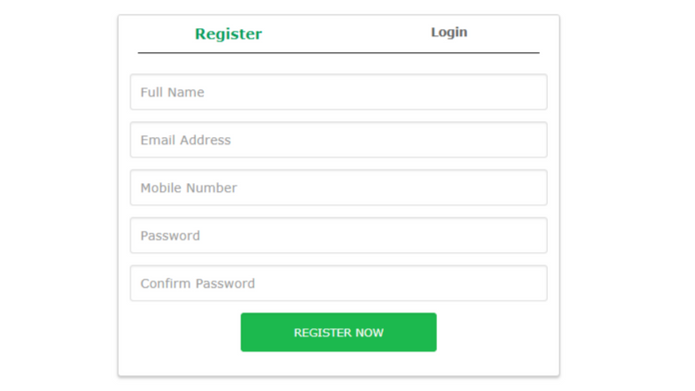 For Registration, You have two options: First, You can directly register from the Home page and Second, After selecting the Job Application form.
This registration will help you for future Job Application details and Application form. After registration, you will see a message of successful registration.
Now, After completion of successful registration you definitely waiting for filling the form, right? So, When you go on home and click on form link a message will display on the screen.
Warning! Your Profile is not Updated please update it.
So, all, you need to complete your profile then proceed.
4.
 Payment
Hurrah! You are almost done. Once you updated your profile, then click on Apply Through Us link it will take you to the payment section. Here you should pay only Rs. 39 for Service Fees of Sarkari Avedan.
Check the below Image for payment:

You might be thinking of this total amount, why it is Rs. 639. So, the fees mentioned on the right side (Rs. 600) of the above image is the fees of form, Sarkari Avedan only charges Rs. 39 to fill out a job application form.
You need to pay the total amount and It is Done!
 If you liked this article, then please subscribe to our YouTube Channel. You can also search for the latest tech news and follow us on Twitter, Facebook, and LinkedIn.