Elevating your brand voice is instrumental and maintaining communication above the noise. Whether you just started or a well-established company you need to build a robust brand to attract potential customers and engage existing ones and build authority in the industry. One of the most important elements of building a strong brand is cultivating a thought leadership content (strong and unique) for better results.
Fear not.
I'm going to share proven thought leadership content ideas for your brand to build a trusted authority with your customers, community, and industry.
Every single piece of content gives a new opportunity and its promotion gives an exercise to brands' voice to reach all the consumers. Also, it will help in passing a message whenever and wherever they encounter your product or service.
All you need is to talk, write, design, post, respond, launch, thank, and connect.
Why Everybody Wants Thought Leadership Content
To build the credibility, trust and, ultimately, loyalty a brand needs a robust product and services. Once you have the product and serviced in place you need to share the voice of earned secrets among your audience. It also covers the unique perspectives, experiences, and resources of your brand. Here is what Adam Grant,
American author says about thought leadership.
Creating knowledge without sharing it is elitism.

Sharing knowledge without creating it is marketing.

Creating knowledge for the purpose of sharing it is thought leadership.#SaturdayThoughts

— Adam Grant (@AdamMGrant) December 28, 2019
The Thought Leadership content is the long-term health of your business that paved a successful path. Its not a short term goal like any target campaign, advertisements, social media following, driving more traffic to your site or more newsletter signups. But, Thought Leadership Content serves a long-term to establish your brand voice in particular markets, publications, and spheres.
Let's take a look at most effective types thought leadership content ideas for your brand:
1.

Visual eBooks & White Papers

The right approach gives the right outcome. Curating and strategizing content is also a first approach to have a right outcome. No wonder you worked on hundred's of article in a quarter but to archive a right audience and engagement on your valuable asset needs a visual eBook or white paper. It takes you one step further.

Visual ebooks & White Papers is a research-based content written with very deep understanding of the topic, elegant representation, and of course in-depth treatise on a topic. It focused on the point of view of author or business.

With the rising number of tech-savvy people, everything is going digital. From ordering a food to booking a cab. So, to cater people with this fast digital transformation world eBook is the best way to share knowledge which people can read anywhere at anytime.
2.

Webinars

A webinar is one of the best ways to share your knowledge about the subject and interact with your audience. It is a best platform to position yourself as a thought leader too. Anyone can host a event with targeted audience to share the expertise, experiences and new launches as well.

That's it. It will bring a whole lot leadership content to life and the best part is it will generate new leads. According to recent surveys and reports it is also seen that educational/how-to content are more effective one. The consumers of thought leadership contents want to learn.

So to run a "thought leadership" webinars be sure that the speakers are interactive, the visuals are awesome, and the content is research based.

Be the "face" of your company as the leader!
3.

Speaker At Conferences & Events

Stephen Hawking once said "The greatest enemy of knowledge is not ignorance, it is the illusion of knowledge." So, to validate your knowledge and to gain more tips from others, share it with others.

Since the last 2 years pandemic increases the content of virtual conferences, webinars and other online events that increases the human connection. All these conferences covers a range of topics from Procurement, Marketing, Business Analytics, Artificial Intelligence, Agile, Leadership, Cyber Security, Cryptocurrencies and more.

Speaking at any conference and event is a good milestone to synthesize experiences of a leader and businesses into the tips for others. Make sure that you appear at least 6 to 8 times in speaking engagements and panel participation conferences and events and boost your marketing and public relations strategy.

Use speaking as a branding tool for your organization.
4.

Media Mentions and Guest Articles

Media Mentions and Guest Articles are the best ways for your brand to stand out from the crowd. So, the more number is there higher will be the visibility and recognition of your brand. Since thought leadership is dominating B2B marketing these media mentions and guest articles will help the companies to connect with their audience.

The companies should appears in articles, interviews, profiles, features, podcasts, for the better brand recognition. And the brand recognition is directly proportional to thought leadership.

So plan a PR campaign and also measure the success of PR campaign for a better results. Yo can also build a list of target publications and their editors to reach out. Along with it, write a guest articles or even columns to share the best resource of the company or product to connect with your audiences.
5.

Video & Motion Graphic Series

Videos communicate a clear story. Isn't it? It is the most engaging type of media that allows businesses to convey emotions and deep knowledge about the subject or products and services. In addition to these, Motion graphics videos are doing wonders in engaging the audience. It is a great way to explain a product or discuss a brand in a playful way.

Today most companies turn to motion graphics videos series for their social media marketing strategies and able to immediately pull people in and grab attention.

The great thing about video content marketing is it works for with both B2C and B2B very effectively. So, you can use video for thought leadership content for 3 things:
Trust. You will build trust by not spamming anyone's feed. You will share knowledge and connect with your audience. There will be no direct selling or promoting. Its just you earn trust and and brand loyalty.
Engagement. Video marketing isn't easy, but when done well you will see lots of engagement on your post. Luckily, you can convert viewers into customers.
Video Series. A series videos help in crafting essential narratives around products and services and will keeps the viewers engaged and curious about the next content. This will also reinforces your expertise and face of your audience.
Videos and Motion graphics are cool, exciting and engaging content.
6.

Interactive Infographics

The interactive infographics are very highly explanatory visual approach with data to share the knowledge. It is also a best way to deliver a complex topic knowledge through an interactive infographic. Like lately I have shared a infographic on Google Algorithm Update 2021 Guide.

It is proven strategy that the thought leadership build pipeline without spending on Ads. So, start creating fabulous infographic for your next brand communication. You could include anything in it like Opinion articles, Case studies, Industry analysis, and Data storytelling.

Don't want to read whole piece of content but needs to check it later to establish the right recipe for your brand strategies, get a taste by saving this Thought Leadership Content Ideas Infographic.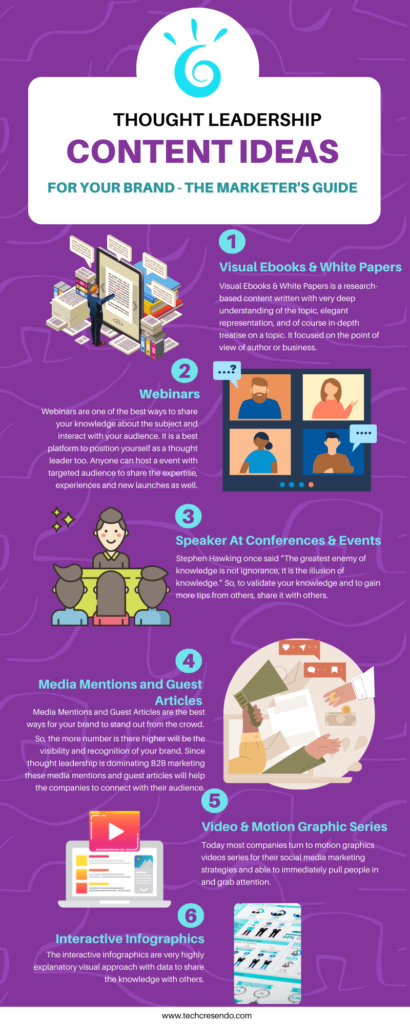 Wrapping Up
Staying excited and focused to your work will certainly gains you a knowledge and good results. It will also leads towards the bigger impact on productivity and overall success. But, to add a authority to your work will give you a way to position yourself and numerous benefits that soon you realize worth the investment.
This is not the end. You can create, engage and share much more like running a contests, Live Q&As, An online exhibit, and Polls/ surveys.
Good Luck!
 If you liked this article, then please subscribe to our YouTube Channel. You can also search for the latest tech news and follow us on Twitter, Facebook, and LinkedIn