How To Grow E-commerce Store Using Content Marketing[Step By Step]
---
In the field of blogging, this is the most important step to use the best techniques of Content marketing to grow sales or grow e-commerce store. Are you also worry about it? In this article, you will learn How To Grow  E-commerce Store Using Content Marketing.
One should focus on its content-creating techniques i.e it must be engaging content in order to increase your traffic to your site and boost your revenue.
So, what happens with customers when they reach your site. They read your content if it is not according to the visitor they left at the same point and few chances to come back. Strong Content and its marketing can build the connection. As a result, your visitors turn into customers.
Create content that's not ordinary
Let's begin with creating the great content that is not ordinary. Without great content, you're more likely to fail.
According to the reports, Internet users create a massive amount of content every single minute of every day. Social media giant Facebook has 3.3 million new posts every minute.
Moreover, one should make the uncommon and the unique content that will stand out in the crowd.
Before creating the content think more about the customers need and How do think about topics that would be useful to your customer. Think about the customer's problems that they face.
Follow these points to generate content ideas:
Listen to podcasts related to your niche
Check out what books are selling on Amazon that relates to your niche.
Engage on Facebook Groups related to your business, Create your own group!
Engage with your customers and ask what they'd like to know more about
So what you gain from these tips? you can grow and nourish personal relationships with others.
In terms of types of content, content may:
Blogs/ articles/ text-based content
Social media content
Videos (including live video)
Advertisements
Offline content (comic books)
E-books
Podcasts
Among these, video content is becoming a most powerful way to deliver information, also it is becoming king and the most engaging form of digital content.
According to reports, it is seen that 75% of the world's mobile data traffic will be video by 2020. it is an astonishing way to create traffic and build engagement.
Huge Reach Of Your Content
Once you create a great content that fulfils the customers need, easy to understand and contains all the solution to customers problem. How are you going to deliver it?
What people try more and most common choices are:
Directly on e-commerce site
Through social media
Email marketing
Social media is good to deliver your content but when it comes emails, it is a really great way to deliver any type of content. As email marketing has so many benefits, Your email list and campaigns can drive repeat traffic back to your website. You can directly communicate with target audiences.
Shopify's email buy button helps a lot when you email them an offer they want. Customers directly go straight to checkout.
I recommend, go with email marketing it is the best techniques to reach the audience and turn your visitors directly into customers.
Follow these steps for effective email marketing:
Newsletters- It provides the latest information of the new products and any modification.
Drip campaigns- to engage and educate customers over time, leading them to purchase.
Special occasion emails- make an offer for holidays, birthdays, and other events and send emails to customers.
Abandoned cart reminders- to encourage customers to complete the checkout process.
Exclusive discount offers- for those permanent customers.
Now at this point, you understand that Email marketing is more effective than marketing on social media in order to generate sales.
Keep your content fresh
It's not just traffic that gets a boost from frequent content. You should publish the fresh content daily.
No matter you are running a small company or a large one should focus on the content, Post often and post consistently, and you will see huge results in traffic, leads and sales.
Turn your content into sales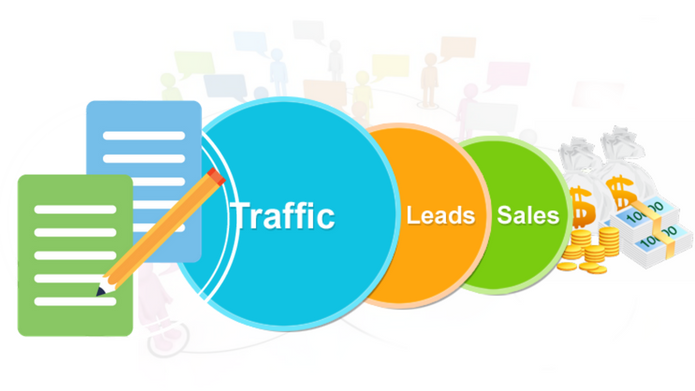 Create landing pages for all your campaigns or content marketing efforts. Also, your landing pages should be well-designed to convert visitors into buyers.
Use Facebook Ads in order to direct the message to the right subset of your potential customers.
Finally, Use remarketing campaigns to boost your sales(grow e-commerce store) and Paid social media ads can be used. With this try to include a call to action (CTA) button. While targeting ready-to-buy consumers.
Conclusion
Grow e-commerce store by Creating high-quality content to boost your traffic, leads, and sales. Also, You also know you need to create it constantly. Deliver your content using multiple channels.