Work From Home – Best video conferencing software for businesses in 2020
---
Every business has its own priorities when it comes to their meeting and strategy planning. Video conferencing has become a good tool for management in offices for conferences, daily meeting, planning, and to cut down on employees travel costs and can save them from various diseases. With the current situation from the coronavirus or COVID-19 in the world, many companies are already started work from home. Here is the list of the best video conferencing software for business in 2020. It will help you stay virtually connected during the COVID-19 epidemic.
Video conferencing is already popular for holding webinars and other online events in this digital era. It is one of the most effective ways of staying healthy in the current situation, Stay At Home Stay Safe.
Video conferencing software let users remotely access one another's desktops, share their screens, exchange files, chat via text, communicate via digital whiteboards, and even organisation can broadcast conferences to large groups of viewers.
List Of Best video conferencing software
Zoom Cloud Meetings
Google Meet
Skype
GoToMeeting 
Google Hangouts
Cisco WebEx
FreeConference
BlueJeans
Join.me
Lifesize
1.

Zoom Cloud Meetings – Best Video Conferencing Software
Zoom Cloud Meetings is one of the most popular and powerful video conferencing solutions for businesses in the list of the best video conferencing software for business in 2020. It is very easy to set up and offers a wide range of features. It offers a video conferencing and messaging solution for both Mobile and Desktop devices.
Zoom video conferencing software support up to 100 participants in a single meeting. Some other features include phone call support, webinar and presentation features, and more.
The pricing part of Zoom video conferencing software is reasonable for how many participants you can get. Prices range from free for basic personal meetings to $19.99/month/host for large enterprises. The features for the enterprise-level plan include custom emails, unlimited cloud storage, a custom meeting URL, and more.
2.

Google Meet
Google Meet is a free service within Google's G Suite software. It is an upgraded version of Google Hangouts basically, it is created for enterprise levels. Google Meet supports up to 250* participants with High-definition video and audio quality. It also syncs with Google Calendar and comes with some additional video conferencing features.
3.

Skype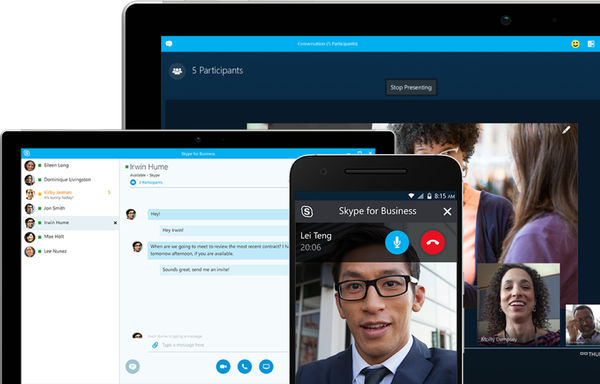 Microsoft's popular Skype service is a decent solution for small teams and small businesses. It is augmented as an enterprise-ready video conferencing tool. It's completely free as long as everyone has Skype. If you want to connect with non-skype users then you need to pay a little bit of money. If you are looking for the enterprise level then go for Microsoft Teams. Skype has several business features, such as allowing up to 250 attendees in a meeting and connecting with other Skype users and virtual whiteboarding capabilities.
4.

GoToMeeting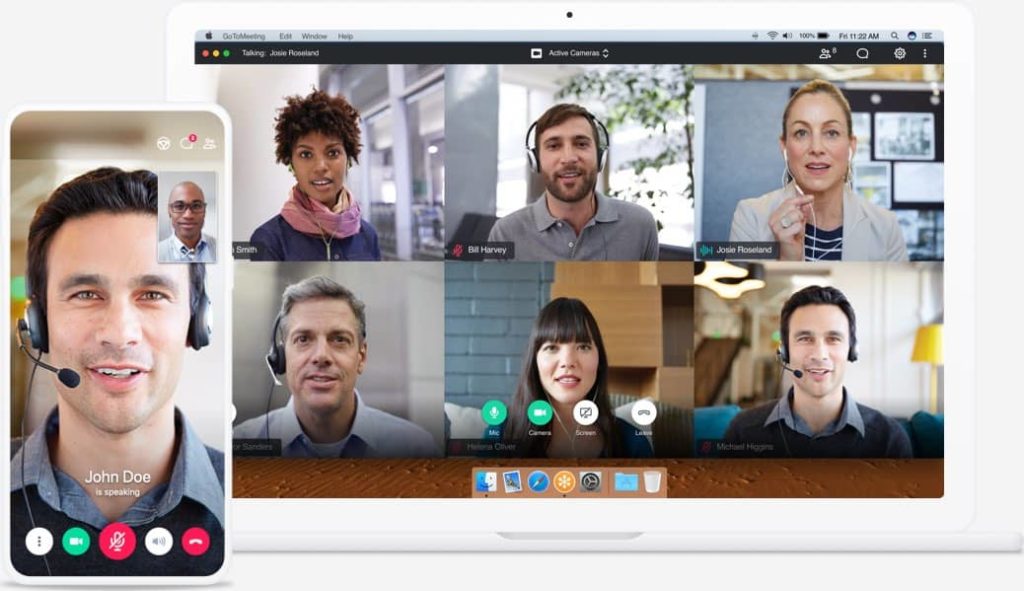 GoToMeeting is one of the popular video conferencing software. It has many great features, including meeting scheduling or instant meetings, meeting transcription services, and also it has an in-app meeting messaging between participants. GoToMeeting supports 15 participants in the lowest subscription tier which starts at $14/month and 25-125 in the higher tiers at $29/month. Some of the other features include a Material Design UI, calendar syncing, a text chat in every meeting, presentation features, and more.
5.

Google Hangouts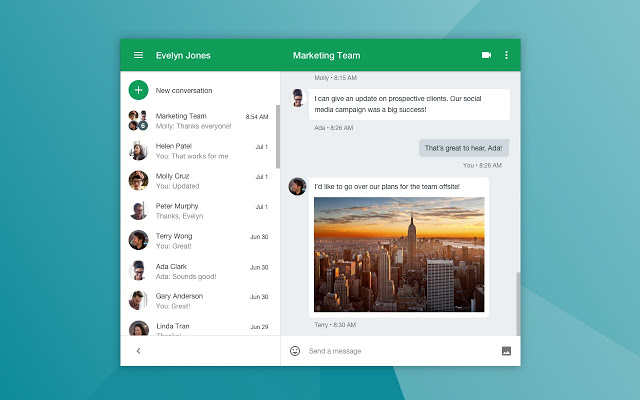 Google Hangouts is a free video conferencing app/software from the search engine giants. It is considered as an individual use service. Google Hangouts is a very simple tool that supports chatting with up to 150 people, but video calls with only up to 10 participants. It can be used in both mobiles as well as on the desktop. The best part of google hangouts is, it integrates with Gmail and Google Calendar. Here are some best-hidden features in Google Hangout –> Best Hidden Features of Hangouts – Google Chat.
6.

Cisco WebEx
Cisco WebEx video conferencing is one of the best options for video conferencing software. It has various plans depends on the businesses, for most circumstances, the free version should be just fine. This enables you to hold HD video meetings with up to 100 participants and to take advantage of options such as screen sharing and private chat rooms. The free package includes 1GB of cloud storage, unlimited meetings of unlimited length and the ability to make MP4 recordings of them. Cisco WebEx has some decent features like joining a meeting with a single tap, customizable video layouts, and you can schedule meetings directly from the app.
7.

FreeConference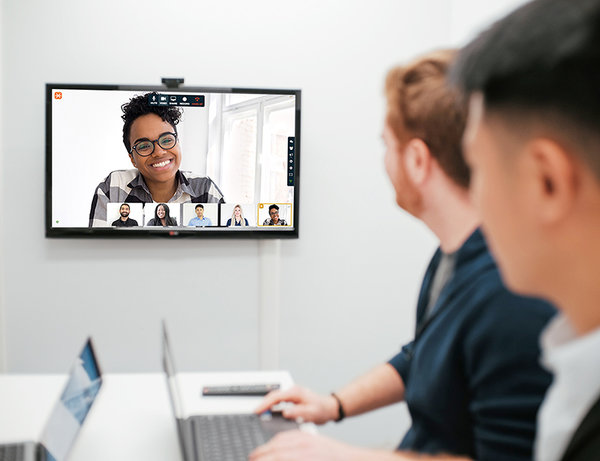 FreeConference is a free video conferencing app/software is for small businesses. The maximum number of participants at the conference is five. You can directly run it to your browser without installing any .exe files to your system or app files for your mobile. You can participant in text or video chats, and use features such as screen and file sharing – but FreeConference is not without its limitations.
8.

BlueJeans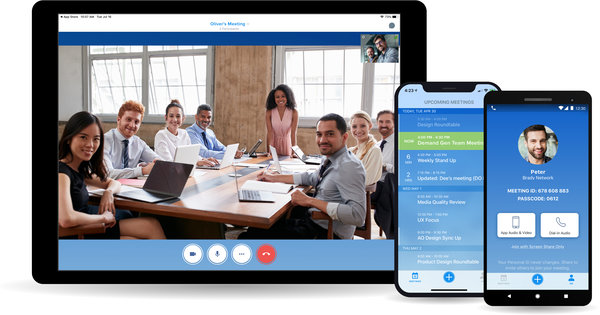 BlueJeans Meetings is one of the best video conferencing software. If you are looking for video conferencing tools that work across many different devices then BlueJeans is perfect for you. It is a full-featured web conferencing app that integrates with collaboration tools. It is for those who just need to meet, whiteboard, and screen share. Its Dolby-powered directional audio experience is unique and gives you a greater feeling of presence.
9.

Join.me
Join.me is very simple and easy to use video conferencing tools with a modern user interface in the list of the best video conferencing software. It has numerous features that will improve your online meetings. Join.me allows you to share your screen with participants in the conference by one easy tool in the Join.me, LogMeIn team. It also allows you to share your control to participants. You can customize your meeting link to whatever you want. Brand it to your company, to the meeting subject, or even to match your personality.
10.

Lifesize
Lifesize allows HD and free video conferencing. You can create a free account and start a free video call with up to 25 participants. It also works on both desktop and mobile devices. you don't need to downloads or installs any file to your system to use Lifesize. Your participants can join the conference from their laptops or mobile browsers by clicking on your personal meeting link.
GOOD LUCK! 
 If you liked this article, then please subscribe to our YouTube Channel. You can also search for the latest tech news and follow us on Twitter, Facebook, and LinkedIn.