How To Earn Money By Content Writing Online-Step By Step Guide
---
Content Writing is full of creativity to serve or create a range of different content types using the written word, usually long-form, rich-content that is search engine optimised.
SO, Whenever a Content Writer creates a piece of content it consists of keywords and Meta. If you are also full with these skills then why don't you get paid from it.
Yes, you are on a right place to learn about How To Earn money by content writing Online.
Here are the Top 8 websites that Pay you to write an article online. In order to start earning money online?
Top 8 websites for Online Content Writing
After careful effort and research, I prepared and compiled this list of websites that offer writers an opportunity to make money by writing articles. Let's start online content writing that gives you an opportunity to work from home.
List Of Websites For Content Writing
WoW Women on Writing: $50-100
Strong Whispers: $50- $150
College Humour: $25- $150
Cracked.com: $100 – $200
Watch Culture: $25- $500
Michelle Pippin: $50-$150
Metro Parent: $50- $75
Sitepoint
1.

  WoW Women on Writing__$50-100
WOW Women on Writing, They Emphasize on women writing(encourage them), writers, and on a monthly theme.
The speciality of Wow Women on writing is that They're a huge, friendly community of and resource for women writers, with quarterly Content Writing competitions and – best of all – they pay their contributors!
Have an eye on below step to follow for getting started:
Step 1. The first step is to read other Wow Articles. This may give you an idea of the tone of the site.
Step 2. Do not duplicate the content. Just be creative.
Step 3. Wow will pay up to $150.00 for a 3,000-word feature article.
Step 4.Write Something According to users means it should be useful.
Furthermore, You have an option of either asking for a payment by Paypal or, if in the USA, by Check.
Note* Wow Women do not open attachments. So, Remember this your article or pitch needs to be presented in plain text in the body of the email. Also, Sending a Bio or a link to other published work is a good idea and will improve your chances of getting published.
Also, For Women-on-Writing: Feature Article Submissions,
They will publish a new feature article every week/two weeks and highlight it in a newsletter.
Word count: So take your article to complete the topic but the but typically the article should be between 1,000 to 1,800 words.
Pay :most articles pay $50 or $75.
Query: Send your query to submissions@wow-womenonwriting.com.
2.

 Strong Whispers $50- $150
Strong Whispers is a global organisation that inspires and encourages people to articulate their thoughts and ideas.
Strong Whispers offers the readers a range of articles about lifestyle, environment and other social issues. So, If you are interested in various subjects also, if you have some lifehacks about travels, for example, and are ready to share them with other readers, contribute your Content Writing to Strong Whispers.
Payment: $50-$150 per published article and you can increase your income by contributing articles 2-3 times per week.
Have an eye on below step to follow for getting started:
Step 1 : Choose a unique and quality topic. Meanwhile, send them your best outline along with your fee expectation.
Additionally, If you are running a blog then send your blog URL or an URL to published work in order to easily understand your Content Writing style.
Step 2 : Once your proposal was accepted for them, go ahead, write your article and submit it for review. Again, I would like to mention write a unique and descriptive article.
Furthermore, You should take care of your Content Writing skill, that each article must be well written, accurate, grammatically correct and original content.
For this, you can go through their guidelines so you can be sure to tick all the boxes.
Step 3 : On Successfully submission of your article, it will be reviewed. After review, you will receive an email accordingly. It will be:
Rejected – Poor quality.
Requires minor changes.
Approved.
Hurrah! If approved, Then they decide to publish it on favourable time. Once set to publish, you will be paid via PayPal.
3.

 College Humour: $25- $150
This Platform is for an entertainer on stage or television whose act is designed to make an audience laugh.
College Humour, is one of the biggest comedy sites on the internet? A site that generates millions of pageviews per day. It is founded by two high school friends, College Humour Media delivers daily comedic content, including videos, pictures, articles, and jokes, created and/or curated by the College Humour staff.
Generally, Youngers shows high interest in comedies so, so this platform targeting a core audience of people ages 18-49.
Have an eye on below step to follow for getting started:
Step 1. Go to College Humour Website and make an account on it.
Step 2. All you have to do is send an email to articles@collegehumor.com with your pitch.
Step 3. Wait for the editors to review your article. If they like it, they will send you an email
After Successfully submission of an article, They will pay you $25 if they put your article on the Articles page, $50 if they put it on the homepage, and an additional $50 if it gets more than 100,000 views. It is so Fascinating. Isn't?
4.

 Cracked.com: $100 – $200
This platform is also for Funny, creative and smart person humour Website. So if you come in one of these categories they don't wait. Cracked is a best opportunity to go with.
Well, It does not ask for fresher or experience in writing, Means no experience necessary. If your article is unique and consist of quality content, they will pay you. Also, The article must consist of infographics and videos(if possible).
Have an eye on below step to follow for getting started:
Step1. All you need to Register for the Website
Step2.Click on the writer's workshop, which leads you to the message board where everyone pitches their articles.
Payments: $100 for per article and goes up to $200 per article.
5.

 Watch Culture: $25- $500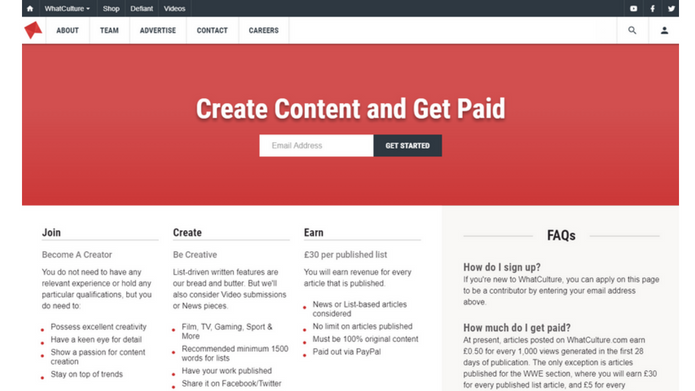 It's really good for those who just start writing. Yes, Watch Culture also not need to have any relevant experience or hold any particular qualifications, Only All you need to: Possess excellent creativity, Article should be descriptive and the article should be latest.
Watch Culture offers its news, opinion and entertainment coverage to millions of users worldwide each month.
Among the written content, you can also submit the videos. With this Platform, Each day dozens of writers are earning money by publishing articles on Film, Music, Gaming, Sports, Television and much more to their ever-expanding five-million a month strong audience.
Furthermore, You can check their word limit of the article, which is: Recommended minimum 1500 words for lists.
The interesting thing with this platform is that it offers you another work,  If Content Writing isn't your thing, they are also planning to set up a larger video presence and are looking for talented filmmakers and YouTubers to produce high-quality content for the site. Cool right?
Have an eye on below step to follow for getting started:
Step 1. Send your Article on editor@whatculture.com 
Step 2. For more details, you can chat on Skype, the address is 'whatculture'. Or if you live anywhere near Newcastle in the UK, they can arrange a face-to-face meeting.
6.

 Michelle Pippin: $50-$150
This is the Platform where you have to read the following to points before the start.
Do NOT Apply if you do not have a VERY STRONG, VERY SOLID grasp of the English language.
Michelle Pippin looking for EXPERTS with first-hand experience about a topic.
The article should be good and specific about the real-world experience from other business owners
So, Basically what Michelle Pippin do? They are helping small businesses increase their profits, influence, or impact. Accordingly, they are looking for articles related to real-world experience from other business owners.
Moreover, If you find yourself so creative, smart and Innovator or a hack for the business, marketing niche, then you must go with Michelle Pippin.
In terms of audience, The Michelle Pippin has a large audience and a wide mix of business and marketing related material. And The platform mention the word count on the site for your average business or marketing article is about 800 words.
Have an eye on below step to follow for getting started:
Step 1.Keep your offer short and sweet and clear pitch.
Step 2.First thing to remember is your content should be original.
Step 3. So, If your work gets published, you'll get paid more money, but you will not be able to republish your article elsewhere.
7.

 Metro Parent: $50- $75
Metro Parent is a platform where the experienced freelance writer are working.  The platform covers the parenting scene in southeast Michigan.
Metro Parent is always looking for strong journalists who can report swiftly and accurately and write engaging, informative content – all on deadline.
For New users can check here the copy of their print magazine and browse MetroParent.com.
Have an eye on below step to follow for getting started:
Step 1. Send an Email to editors with links to 2-3 examples of your published reported work, plus your resume.
Step 2. Pitches are also welcome but, unique, specific and clear.
Step 3. If your article submission is accepted or you have been assigned a story, you should submit an invoice (within an email is fine) that includes name, address, phone number, Social Security Number, the name of story and payment amount.
Note*Submit the invoice within a week.
Step 4. Be careful about the attachment which you send. Means Metro Parent prefers stories to be sent as a Microsoft Word attachment.
Also, In case you are not using the MS. Word, For those, send the story within the body of an email. Meanwhile, check that your email must consist of a name and phone number of sources at the end of a story, in case they have follow-up questions.
8.

 Sitepoint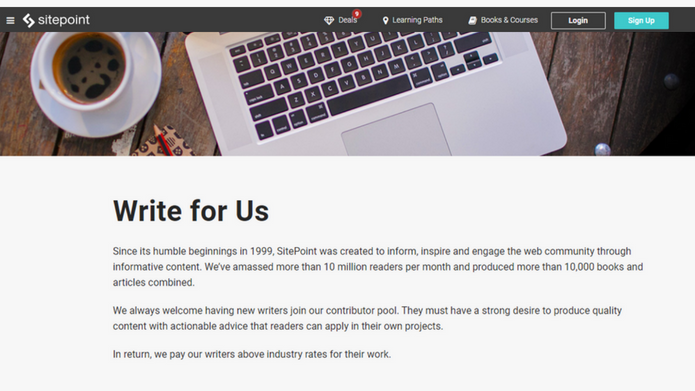 Sitepoint, The platform Aimed to inform, inspire and engage the web community through informative content writers.
Sitepoint has a huge audience of about 10 million readers per month and produced more than 10,000 books and articles combined.
The Platform looking for content that is technical, instructive, well-written and innovative.
All you need to browse the website in order to check what are the topics for writing the article. As they change the topics monthly.
In recent months, they created hubs covering React, web performance, and analytics. And In future months, they are looking at subjects like Node, Angular, UX prototyping and Vue. Site Point works with article writers from all over the world.
Have an eye on below step to follow for getting started:
Topics Covered By SitePoint: CSS, JavaScript, PHP, Ruby, Mobile development, UX Design, HTML.
A clear pitch of a topic or idea that you'd like to share.
Further, If your article is accepted, a development editor is assigned to you in order to help you develop your narrative in accordance with their style guide.
Articles are usually published four-to-eight weeks after they're initially pitched.
Payments: They pay $100 per article.
Good Luck! 
 If you liked this article, then please subscribe to our YouTube Channel. You can also search for the latest tech news and follow us on Twitter, Facebook, and LinkedIn.