The Nintendo Switch Release Date, Specs, Games, Controllers, and Everything You Need to Know
---
Nintendo unveiled its latest piece of video game hardware, the Nintendo Switch. And while there's a lot to talk about, there are some key features that define the Kyoto-based company's latest effort. Long-rumored and much-anticipated, the Nintendo Switch is a shape-changing console that doubles as a traditional home-based machine and a smaller portable device.
The Switch consists of the Console and the Dock. The Nintendo Switch Console plugs into the dock for use on a big-screen TV at home. The 6.2-inch display on the Nintendo Switch Console doesn't seem to work as a touchscreen although the functionality appears to be built in and sports a 720p resolution.
You'll notice joysticks and buttons on the sides of the Switch, this is another pre-announcement rumor to come true was its detachable controllers. They're officially called as Joy-Cons. They plug into either side of the Nintendo Switch Console when used as a portable and can be attached to Joy-Con Grip for games that require more complex controls.
The Joy-Cons will let you play Zelda when used in single. But you can also break those controllers off, like so many pieces of a Kit Kat bar, hand one to a friend, and play a round of competitive, portable Mario Kart anywhere you like. This will, of course, mean that each player's control option is limited to one joystick and a handful of buttons. But many Nintendo games already control just fine with such a setup. You can also play local multiplayer games using two or more Switch consoles.
Nintendo has a massive list of major game developers and publishers that are publicly announcing support for the Switch.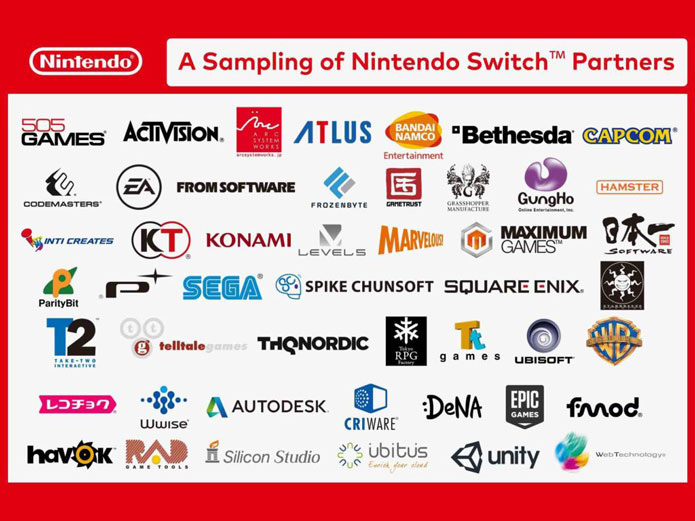 The Nintendo Switch is slated for a March 2017 release, but there's no word yet on a price tag for the device. It's unlikely to be available in India at launch.