Google Plus revamped
Google has revamped its social network Google Plus, that puts a much stronger focus on people's personal interests. If you don't see the redesigned Google Plus yet, you can manually get the new Google Plus.
The redesign, which is focused on building communities and collections on the social network, started to gradually roll out to users on the web from Tuesday.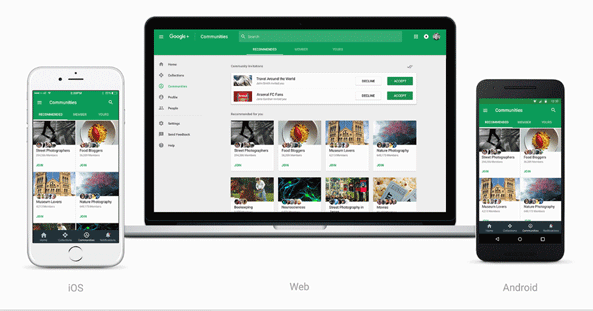 Google plus service was launched four years ago as an attempt to counter the rise of Facebook, which at the time had 500 million users.
"We've spent a lot of time listening to what people using Google+ had to say. There were two features they kept coming back to: Communities, which now average 1.2 million new joins per day, and Collections, which launched just five months ago and is growing even faster," said Eddie Kessler, Google's director of streams, in a blog post.
[su_quote cite="Eddie Kessler"]And it's more mobile-friendly – we've rebuilt it across web, Android and iOS so that you'll have a fast and consistent experience whether you are on a big screen or small one[/su_quote]
The new version of Google Plus comes with a bold red action bar on the top and the latest version of Google Plus focus on Collections and Communities, which is a feature for sharing pictures and videos that lets users post on the same topic. Google says these are the parts of the social network that people use most, so it's putting them front and center.
Here's how you can manually get the new Google Plus –
Go to the Settings > Manage other apps & activity > Manage Google+ activity and click the search bar at the top of the screen.
These steps should enable you to get the new Google Plus, with your next visit to the home page showing you the new layout.