How To Build Strong Upwork Profile – Complete Guide
---
If you are a freelancer and want to grow your business go with Upwork(top freelancing website), that helps you to Grow your business. It assists you with all the level of service that works for you. In this article, I will tell you some strong Upwork Profile tips.
Thus, It is known as one of the most popular and credible freelancing sites where thousands of freelancers are earning a living.
Now, you might be thinking of how to get a work from this site? Yes, the well-written profile has been a huge reason. After building a strong profile you have more chances to get work and finally get a lot of success with finding quality clients through Upwork.
You have to build a killer profile that grabs your client's attention. So do you create the Upwork profile that gets you, clients? Let's begin!
1
Choosing Right Type of Profile
Before building a profile, the first thing you need to is to ensure that you create the right type of profile.
Upwork provides you two types of profile:
Client profile
Freelancer profile
As you are running for finding the work the correct profile will be Freelancer, so click on the 'work' button as seen below:
If you are a freelancer, blogger, entrepreneur, Jobseeker, and so on One of the most important aspects is your an online presence that speaks to your professional abilities.
Once you choose the right profile, fill all the social network profile links to make up work profile strong. There are options in the profile to link your Upwork account to other online accounts such as Behance, Facebook, Twitter, Dribbble, LinkedIn, DeviantArt, and many more.
In this way, clients can easily look for your work interest and also your past experience. Also, you accounts tell the image of your working culture and verify your identity.
This is another way to catch the eyes oo client, while choosing a profile photo I would recommend go for a simple(But high-quality ) and professional photo( good quality profile photo).
While reviewing your profile, Clients first see your photograph to know about the person. Also, Do not make fool your clients by placing a photo of your friend or anyone. Do not use cat photos or Google images or worse still, use your real photo.
4
Title Of Your Upwork Profile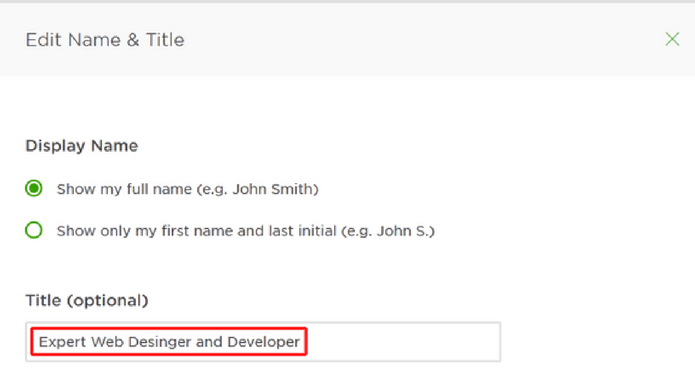 Once you set up your Professional Profile picture, clients see your title. Generally, people did this mistake and ignore it. It is one of the most important parts of your profile.
This is the first real description of yourself that clients will see, so must write the descriptive title. Well, this is a small line but way to navigate your client to move down to read more about you in your profile and hopefully consider you for the job.
Points to remember:
Be specific: we all know today competition so you need to be very precise that defines your work. So ensure your specific niche comes out clearly in your title. Also, Use simple and straightforward words to create a professional title that describes your skills.
Use keywords: A keyword, in the meaning of search engine optimization, is a particular word or phrase that defines the contents of a Web page. Similarly, the potential client uses Keywords to search for someone with required skills. So, Use keywords and phrases.
5
Add Your Overview To Upwork Profile
Cool! The first step is the strong and descriptive title, Now the second one is an overview that showcases your work. Your overview gives the chances to tell prospective clients a bit more about yourself. Try to sell yourself in a few more words, make it count.
Think about the work requirement and then express the unique skills that you possess. Keep in mind that only First two or Three sentences of your overview are displayed in the search results and other pages of up work.
Focus on the Starting Words and finally, you can include soft skills in the end like Good Communication, fast learner etc.
Mention Below points while creating your overview:
Type of work and Industry.
Work experience
Your proficiency with systems and industry-relevant software.
Accomplishments.
How many Languages you Know and are proficient working in.
Note* Highlight your skills and accomplishments. Also, check spelling or grammar mistakes.
Upwork provides an area where you can place your video, this al%so makes your profile strong but it is not necessary. Also, try to make a short video, approximately, a minute long, not more.
Your video should contain Introduction, the brief overview, skills, experience and past employment.
Leave a thank you message to the viewer, express your desire to work with them in the future, and invite them to look at your profile.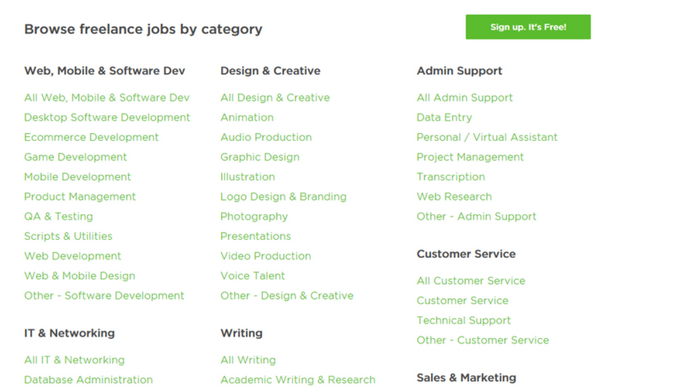 Now, this is the point where you have to mention all your skills. I recommend making a list of five and a maximum of 10 skills. Mentioning skill set is the most important and most relevant section.
Communicate with a client is important in order to get the work or get hired. As thousands of freelancers who possess fluency in other languages But, The official Upwork language is English. You will be required to assess your English skills. Finally, select the proficiency of your language.
9
Select Your Experience Level

For strong profile or 100% complete profile rate your experience level. As there are 3 levels of Upwork i.e  Entry Level, Intermediate and Expert. The level you choose is not according to your experience on Upwork but the overall professional experience you hold in your area of expertise.
So, If you are just started then select Entry level If having some experience through freelancing then select Intermediate If you completed so many projects then select Expert depending on the number of years.
10
Mention Employment History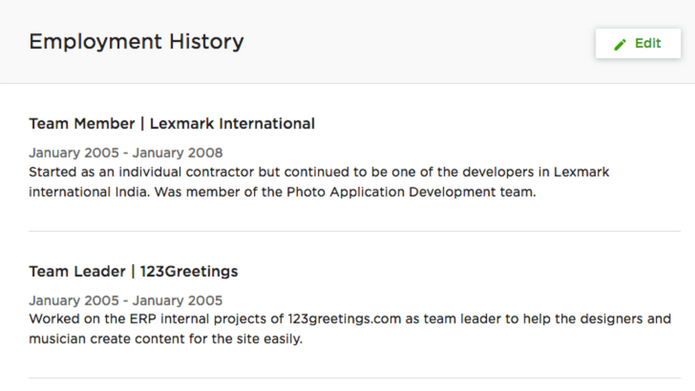 After choosing the experience according to your work, Now its time to provide the history of your employment(way to showcase your experience).
Your employment history also tells the details of projects that you completed. While writing the employment history use bullet points and highlight achievements. 
The area where you have to write all your Education history. Clearly, List the institution name and your degree(s) in sequential order with the most recent degree at the top.
There is an area in up work, where you can mention your self-taught education. Also, update the profile if you gain recently new education. 
This section tells the client about your past work in form of an example. As the portfolio is a living and changing set of records that reflect your accomplishments, skills, experiences, and attributes.
Moreover, It highlights and showcases samples of some of your best work. In this way, clients will definitely trust that you're an expert. And holding enough knowledge related to the project or work. While adding your portfolio,  ensure that you put your best work first.
Also, File every item under the most relevant category like- Article & Blog Writing, Social Media Marketing,  Web & Mobile Design, etc
Finally, This is the point where you get something when you complete any project. So what happens here? You have to set your hourly rate on Upwork Profile by thinking how first how much you worth.
So, Guys don't wait for the right opportunity. Work hard, stay focussed, strengthen your Upwork Profile, grab the project and start the work. 
Good luck!  
 If you liked this article, then please subscribe to our YouTube Channel. You can also search for the latest tech news and follow us on Twitter, Facebook, and LinkedIn.