What Are The Google AdWords Banner Sizes – AdWords Guide
---
In order to run a successful Ad, you need to go through the essential Google Adwords Banner sizes Guide. Right? Because everyone(who spends money) wants to get the best return on paid advertising.
If you're doing online advertising and stuck in between for Google AdWords Banner Sizes then go through this guide for you effective Ads.
Well, specifying the AdWords Banner Sizes is very important because — Advertisers uses a variety of targeting methods for millions of websites keeping the range of audiences in mind. Let's have an eye on the List of 10 AdWords banner sizes that you can create (these are all in pixels).
250 x 250 – Square
200 x 200 – Small Square
468 x 60 – Banner
728 x 90 – Leaderboard
300 x 250 – Inline Rectangle
336 x 280 – Large Rectangle
120 x 600 – Skyscraper
160 x 600 – Wide Skyscraper
300 x 600 – Half-Page Ad
970 x 90 – Large Leaderboard
Considering the file Formats of Google Display Image ads, according to the Google Display Network. It uses GIF, JPG, PNG, SWF, ZIP format which has a max file size of 150 KB per file. Now, have a look at the four groups among which the 20 ad sizes are divided:
Square and rectangle200×200 – Small Square
240×400 – Vertical Rectangle
250×250 – Square
250×360 – Triple Widescreen
300×250 – Inline Rectangle
336×280 – Large Rectangle
580×400 – Netboard
Skyscraper120×600 – Skyscraper
160×600 – Wide Skyscraper
300×600 – Half-Page Ad
300×1050 – Portrait
Leaderboard468×60 – Banner
728×90 – Leaderboard
930×180 – Top Banner
970×90 – Large Leaderboard
970×250 – Billboard
980×120 – Panorama
Mobile300×50 – Mobile Banner
320×50 – Mobile Banner
320×100 – Large Mobile Banner
READ MORE: Insight-driven Marketing for Pay Per Click campaign (PPC)
Among these Google AdWords Banner Sizes, Let's explore the most popular and common Google AdWords Banner Sizes.
Most Popular Google AdWords Banner Sizes.
300×250
336 x 280
728 × 90
300 x 600
320 × 100
Here is the list of most common Google Adwords Banner Sizes. Let's explore:
Ad Size #1

 300×250
This Ad format has an image size of "medium rectangle" and the most widely-used and top Performing Google Adword banner sizes on the Internet. As we consider the size its quite useful because it doesn't take up much space and gets embedded in the text.
Moreover, this ad format supports both display/text ads, as well as on mobile layouts and generate the best CTR for most websites.
Ad Size #2

  336 x 280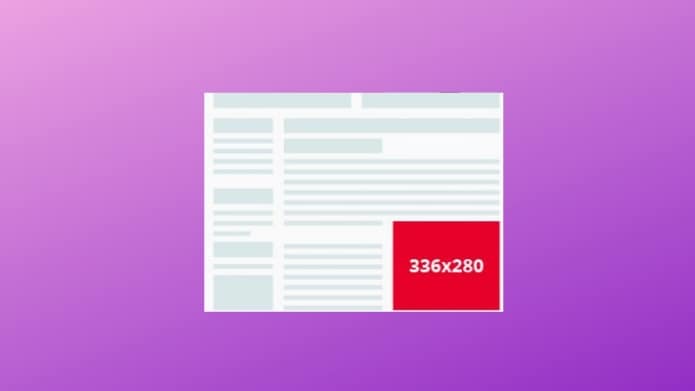 This add format has "Large rectangle" image size comes second in the list of Google AdWords Banner Sizes. When we compare this Large rectangle with the medium rectangle then it is one of the most noticeable Ad format. However, it has only one disadvantage that may not fit in all website sidebars, also not mobile optimized.
Moreover, it can support both image and text ads because of its small size, you can place it next to content in order to get better ad inventory as well.
Ad Size #3 

728 × 90
This Ad format also known as "leaderboard," which is often displayed at the top of your website or page. Well, I already used the term "better ad inventory" this ad format is another option for brands to get the better ad inventory. This ad plays a great role, when it comes to visibility and catches the eyes of many visitors of your website. It supports both text and image ad formats but doesn't support mobile ads.
Ad Size #4

  300 x 600
This Ad format is called "half-page", it is responsible to cover the half-page of your website. It holds a fourth position in the list of Google AdWords Banner Sizes. The aim behind this Ad format is to give a piece of brief information to the visitor about the Ad.
In terms of space, it takes enough area but one of the fastest-growing sizes by impressions due to its more descriptive visual image, which can effectively communicate their message during retargeting.
Ad Size #5

  320 × 100
This Ad format called as "large mobile banner". This Ad is for mobile devices and works the equivalent of the leaderboard ad format to give "better ad inventory" and very effective for mobile devices.
Mostly this ad used to replace the 320×250 and 320×50 and placed at the bottom of the page.
READ MORE: Complete Guide To Optimize Google Shopping Campaign: Google Best Practices 
Conclusion
Get better knowledge of display advertising, optimize them in order to create your own effective ads.
Good Luck! 
 If you liked this article, then please subscribe to our YouTube Channel. You can also search for the latest tech news and follow us on Twitter, Facebook, and LinkedIn.