Super Mario Run launched for iOS: everything you need to know
---
Super Mario Run is now available on Apple's iPhone and iPad, bringing the beloved Italian plumber to iPhone, iPad and iPod touch screens across the world. Mario may be the most familiar face in the world of gaming, but Nintendo's Super Mario Run isn't a port of any console game. It's a traditional two-dimensional game. Of course, the character, Mario, is the soul of Super Mario Run. The game itself is original in its present form but comes with a heavy dose of nostalgia and loads of memories.
If you have downloaded the new Super Mario Run, or looking forward to downloading it, here's everything you need to know about the first smartphone game from Nintendo, Super Mario Run.
Super Mario Run release date
The first smartphone game from Nintendo was released on December 15 globally. If you've signed up for the notifications to the game, you will be told when it can be downloaded.
Super Mario Run release time
The game release time might differ depending on your location. The game might be available in countries like the US from around 10 am PST and India from 11:10 pm IST on December 15, depending on how Nintendo decides to release the game.
Super Mario Run download size
Expect it to take up around 370MB of storage space. It might not sound much but could be a problem if you have 16GB iOS device or a poor Internet connection.
Super Mario Run price
The game's price is Rs. 620 in India and $9.99 in the US. This makes Super Mario Run one of the more expensive games on the App Store but you can try it for free. Which brings us to the next point.
Super Mario Run is free
Free to try, that is. Nintendo has stated you can play a few levels of Super Mario Run at no cost to you. It hasn't stated how many levels will be free but if it is anything like what early previews suggest, expect three levels and a brief sampling of the fourth.
Super Mario Run is now available for iOS only
Yes, you read right, Nintendo is keeping Super Mario Run as a timed exclusive on iOS devices for now. A Super Mario Run Android release is planned for next year.
Super Mario Run is always online
Nintendo's Shigeru Miyamoto, the creator of Mario, has revealed that you will need an Internet connection to play Super Mario Run. Speaking with Mashable, Miyamoto said that the decision had been taken to combat the game's piracy. "For us, we view our software as being a very important asset for us," he added.
"And also for consumers who are purchasing the game, we want to make sure that we're able to offer it to them in a way that the software is secure, and that they're able to play it in a stable environment."
Here are our first impressions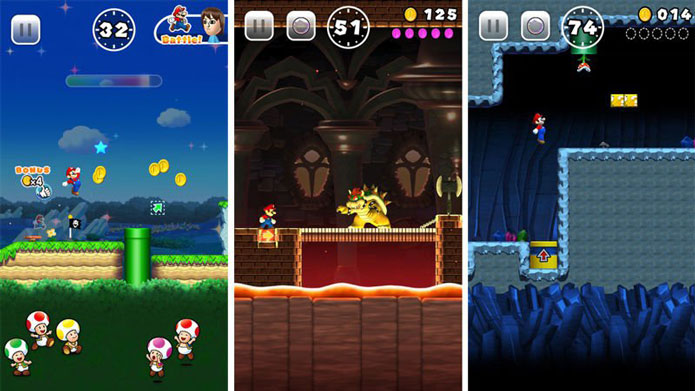 The premise of first smartphone game from Nintendo is as simple as it gets. Bowser is at it again, and there is unrest in the Mushroom Kingdom. The flame-throwing reptile in his Koopa Clown Car has destroyed most of the Kingdom and has also kidnapped Princess Peach. Mario, like the gentleman he is, has to not only rescue Princess but also has to rebuild the kingdom and get the toads back. You are greeted with the similar side-scrolling setting, but this time Mario runs by himself, and you only need to tap on the screen to make him jump over obstacles and oncoming enemies.
The whole Super Mario Run game is played in a portrait mode. And yes, there is no need of two hands to play. This is a one-handed game, designed for modern day devices like the iPhone. The idea is simple: to play the game with one hand. All throughout the game, you are tapping on the screen to move Mario forward – the longer you hold, the higher he jumps. Yes, timing is very important. You need to jump at the right times to collect coins, step on enemies and jump off walls.
The game's main mode "World Tour" has many levels, which will remind you of old classic Mario games. The whole Super Mario Run game's levels are divided into six worlds of four courses each, for a total of 24 maps. That may seem light, but each level is a black hole of replayability. Scattered through each are five pink coins in often hard-to-reach places, and once you get those, the course changes to include five harder-to-reach purple coins, then five (hardest-to-reach) black ones. Even the pink coins are tricky, and most players will have trouble grabbing more than two or three their first time through a level. Obsessive fans will waste hours perfecting a path through each version of each course.