The Royole FlexPai is the world's first foldable phone with Snapdragon 8150 a.k.a. Snapdragon 855 and it starts at ¥8999 (~$1290)
---
A smartphone manufacturer you have probably never heard of has beaten other smartphone manufacturers in the race to release the first smartphone with a foldable display. Royole, released the FlexPai, the world's first foldable smartphone with a flexible display. The FlexPai is a tablet-sized phone that can be bent into a shape the size of a small paperback book.
The smartphone comes with a 7.8-inch screen and measuring 7.6mm thin. The outlet adds that the device is equipped with dual rear cameras 16-megapixel + 20-megapixel telephoto pairing. The camera is on the left side when the device is laid out flat.
The company also says the smartphone supports a proprietary fast-charging technology called Ro-Charge that can charge the device from 0 to 80 percent in 60 minutes of charging. Ro-Charge is said to be 40 percent faster and has an efficiency rating of 94 percent and also has 3-layers of protection. However, they didn't state the battery capacity of the FlexiPai.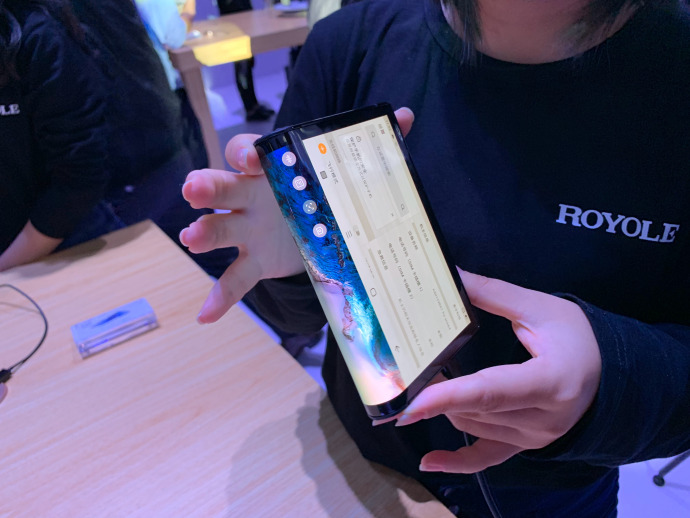 The FlexPai isn't just the first mobile device with a foldable and flexible display but also the first mobile phone to be powered by the yet-to-be-announced Qualcomm Snapdragon 8150 a.k.a. Snapdragon 855.
The world's first foldable phone comes in three configurations – 6GB RAM + 128GB ROM, 8GB RAM + 256GB ROM, and 8GB RAM+512GB ROM.
FlexPai smartphone will go on sale tomorrow for a limited time, starting at 8,999 yuan (~$1291) for the 6GB/128GB model. The device will also be available in an 8GB/256GB option for 9,998 yuan (~$1434), and in an 8GB/512GB variant for 12,999 yuan (~$1864).