Reliance Jio Prime Membership Plan Starts Today: Here Is Everything You Need To Know
---
Reliance Jio has started to enroll members for its Prime membership and will continue to do so until March 31. Now, Jio has announced new prepaid and postpaid 4G data plans for Prime members that will give them additional benefits at the same price compared to non-Prime members. The Reliance Jio Prime membership subscription can be availed by both existing Jio users and those who subscribe to Jio's services till March 31, 2017. Jio subscribers can opt Prime for a one-time membership fee of Rs. 99.
Reliance had introduced the Jio network last year and had been very aggressive with its tariff plans, which were basically free. But after March 31, users will not get everything for free.
Reliance Jio Prime membership gives you same data and service benefits as company's 'Happy New Year' offer, except users will have to pay Rs 99 as subscription fees and a standard Rs 303 per month. At Rs 303 per month, users will get 28GB data valid for 28 days along with access to Jio's bouquet of media services. Remember, voice-calling, SMS and access to Jio's apps are free for all Jio users.
Plans Under Reliance Jio Prime: For prepaid users
The plans offered starts from Rs. 19 which is valid for a day and offers 200 MB 4G data for Prime customers while 100 MB for non-Prime subscribers. Rs. 49 (3-day validity) offers 600 MB for Prime and 300 MB for non-Prime users. Other plans are of Rs. 96 (7-day validity), Rs. 149 (28-day), Rs. 303 (28-day), Rs. 499 (28-day), Rs. 999 (30-day), Rs. 1,999 (90-day), Rs. 4,999 (180-day) and Rs. 9,999 (360-day) offering different data packs depending on the type of the recharge.
Plans Under Reliance Jio Prime: For postpaid users
The plans are of Rs. 303 (28 GB 4G data for a month with 1 GB daily data limit), Rs. 499 (58 GB data with 2 GB data limit per day), and Rs. 999 (60 GB data for a month).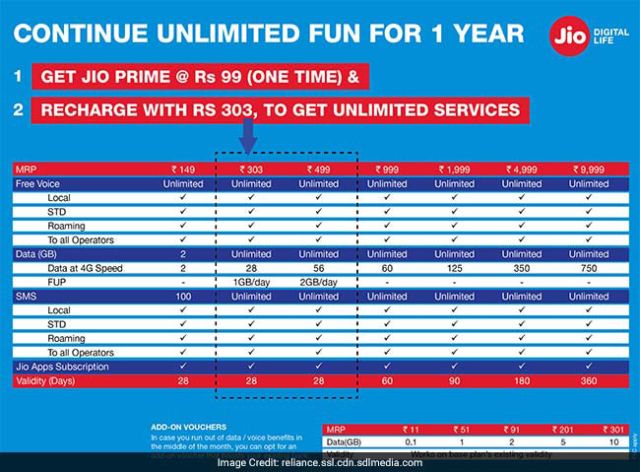 Additionally, Jio is offering booster packs starting at Rs 11 for prepaid users and there's no validity on these packs. Jio's Rs 11 booster pack will give users access to 0.1GB data, Rs 51 pack offers 1GB data, Rs 91 offers 2GB data, while Rs 201 pack offers 5GB data. There's a Rs 301 booster pack as well that gives users an access to 10GB data.
For postpaid users, booster packs start at Rs 52 for 1GB data and go up to Rs 301 for 10GB data. The Rs 91 and Rs 201 booster packs offer 2GB and 5GB data respectively.
How To enroll for the Reliance Jio Prime membership
Reliance Jio customers can enroll for the Prime membership via MyJio app or from Jio.com or via offline Jio stores before 31st March 2017. Via MyJio app, launch the MyJio app and see whether if it is asking for the update. If yes, then update it and sign in to the account. Look for the recharge under Jio Prime and select Rs. 99 option. Choose the payment mode and pay.