Microsoft now has the most open-source contributors on GitHub than Facebook and Google
---
Microsoft has been open sourcing a lot of things lately. The company launched an open sourced Visual Studio Code last year, as well as a lot of other projects — including things like Microsoft Edge's JavaScript engine, Xamarin SDKs (for building cross-platform apps), and PowerShell.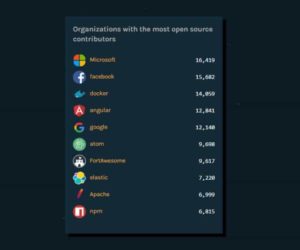 The Redmond software giant sent shockwaves through the technology world a couple of years back when it first began seriously embracing open-source software, and now the company can proudly boast that it has the largest number of contributors to projects on GitHub.
The Microsoft edged out Facebook for that distinction in new data published by GitHub Inc. in its annual The State of the Octoverse report. Published during the company's GitHub Universe conference, the 2016 report provides stats gleaned from the vast open source code repository, such as most active projects, most popular programming languages and top contributing organizations.
The report revealed that 16,419 contributors who're affiliated with Microsoft have worked on GitHub open-source projects over the past year, putting the company ahead of organizations including Facebook (with 15,682 contributors), Docker Inc. (14,059) and Angular (12,841).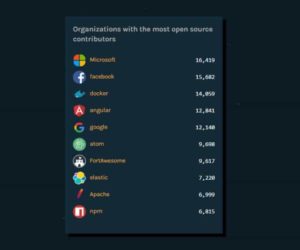 GitHub also took the opportunity to highlight the growth of its robust code repository.
"Our community has grown to more than 16 million people strong, hacking on things like Free Code Camp, an open source curriculum that helps nonprofits; and Batavia, an implementation of the Python virtual machine," the company said in a blog post yesterday.
"We want to welcome the more than 5.2 million new developers who joined our community in the last year and applaud the more than 800,000 of you for creating your first pull request," the company continued. "Many of you have joined us from all over the world — we saw explosive international growth from China, Indonesia, India, Russia, Brazil, and Japan."
Also yesterday, in another blog post, GitHub announced new tools, forums, and features in its GitHub Universe.
"We're announcing our biggest update to the platform yet," GitHub said. "We're making it easier for you to work together to ship high-quality code through improved code review tools, and we're giving our profiles an update to better show who you are as a developer. We're making integrating with GitHub a first class experience through major API improvements. And we're taking steps toward making GitHub a better place for businesses to get work done with added security measures for organizations."
10 Most Popular Languages Used on GitHub