According to research, The statistic shows the unemployment rate in India is increasing. There are various reasons behind it, Sometimes Applicant lack of Knowledge and Sometimes they are unable to find the right jobs online. If you are an applicant and facing the same, then don't be panic now you are on right place to explore 15 Best Job Search Websites 2018 in India.
This article assist you to choose the best job portal for you to facilitate the job search and find your dream job faster!  As applicants waste lots of their time in searching for jobs and sometimes get irritated.
Now, You already know the job market, Find jobs is a really competitive task as the number of people wait for the right opportunity and once it comes you should not wait for a long. Isn't it?
Also, When you find the Best Job Search Websites 2018 be ready to create a catchy and winning CV that matches your industry. For instance, if you are a Web Developer, you should produce a CV according to the requirements of the IT industry for Web development.
So, Stop wasting your time in searching just explore these Best Job Search Websites 2018 that help you out.
15 Best Job Search Websites 2018
Naukri
Monster
Naukri Hub
Times Jobs
CareerJet
CareerAge
FresherWorld
Placement India
Shine
Upwork
JobSarkari
Glassdoor
Indeed
FreelancerMyWay
Linkedin
1. 
Naukri
As the name signifies "Job", Naukri.com is the famous and most popular website among the Jobseeker every one knows about this portal. It is easy to use and makes all those daunting tasks easy. It helps you to apply to Millions of job opportunities across top companies, industries & locations.
Naukri.com is an Indian job portal, founded in March 1997. "So, here we are satisfied by seeing the age of the domain as it runs since a long time". Naukri is one of the trusted websites which displays a list of quality jobs.
Approximately, There are about 50 million Plus users on naukri.com and almost 10,000 new resumes are updated by job seekers on the website every day.
The interesting thing about this website is, this website is one of the top free job portals in India. Applicants need not pay a single amount.
However, The company has now expanded its offering and has a premium subscription-based service too which promises to match you with the best jobs in your domain based on your profile and qualifications.
 Website: www.naukri.com
2. 
Monster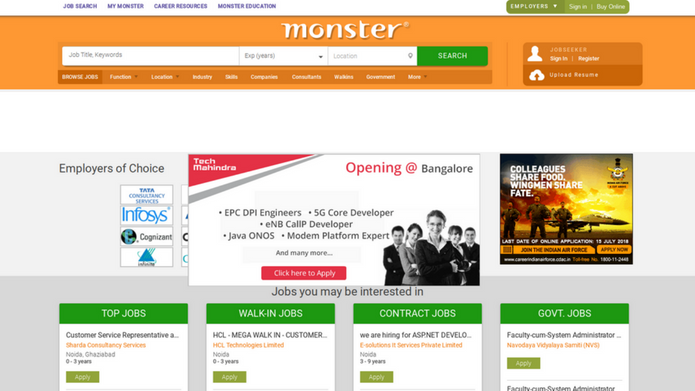 It is also known as the world's largest job search engines. Monster also offers the list of premium jobs to job seekers and one of the most searched or Best Job Search Websites for young professionals in India.
Monster.com is an America-based owned, founded in 1999 through the merger of The Monster Board and Online Career Center.
Moreover, Monster has expanded massively into the small and medium business markets to provide a focus on jobs. We can say, Monster is one of the Best Job search Portal for both Startup and MNC's Jobs in India.
 Website: www.monsterindia.com
3.
Naukri Hub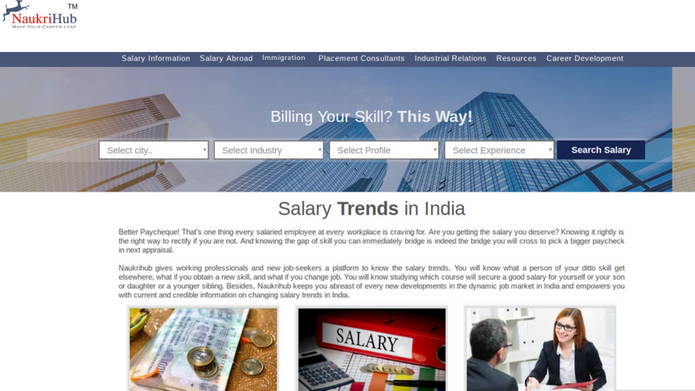 Naukri Hub, This Job portal is known for the "leading salary portal" in India to get complete information on salaries offered by Indian companies in different verticals.
You will know what a person of your ditto skill get elsewhere, what if you obtain a new skill, and what if you change job.
Moreover, It is a product of the original Naukri and the portal helps you to find jobs and employees in northern parts of India. Naukri Hub also offers a huge number of jobs exactly in northern regions.
Also, Naukri Hub offers following services:
For Companies, It Advertises all vacancies for free.

Search Resume

Free business profile- They Create a Page on their website to promote business by displaying name, logo and list of current vacancies.
Website: www.naukrihub.com
4.
Times Jobs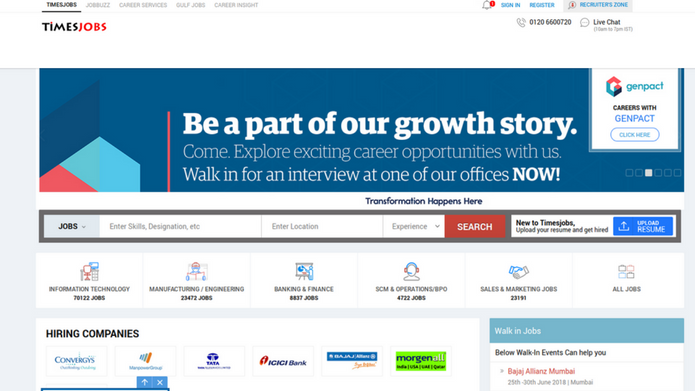 Among Naukri and Monster, Times Jobs is also Best Job Search Websites for young professionals or job seekers. Times Jobs Known as the Powerful job search engine in India.
This portal offers you a number of jobs in different fields. It is very easy to use, All you need to place your CV and, probably, the recruiter will notice you!
TimesJobs.com is an also Indian employment website, owned and operated by The Times Group and considered among one of three major job portals in India along with Naukri.com and Monster.com.
Website: www.timesjobs.com
5.
CareerJet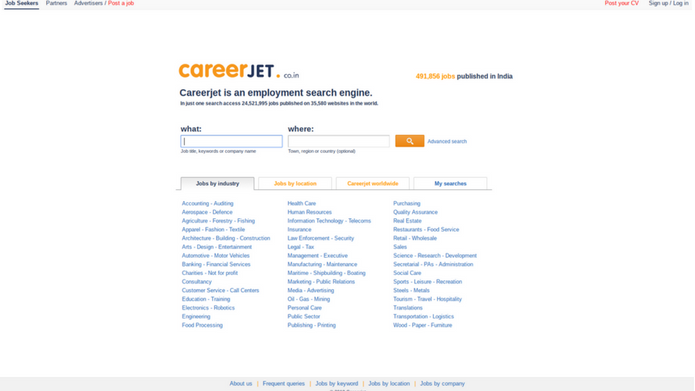 CareerJet, This Employment Search Engine offers access 24,650,808 jobs published on 35,553 websites in the world in just one search.
It is also Best Job Search Websites for fresher or Jobseekers. The interesting thing with this Job Portal is, It servers with over 90 localised websites, in 28 major languages, Careerjet gives job seekers direct access to an extensive database of jobs, targeted to their needs, in just one straightforward search.

CareerJet Launched in 2001, It has three subdomains i.e
Careerjet (worldwide)

Opcionempleo (Spanish language markets)

Optioncarriere (French-language markets).
Website: www.careerjet.co.in
6.

CareerAge
CareerAge, Another Best Job search website in India. Applicants can easily Apply online through various Jobs in just a few clicks.
This Job portal was launched in 1999 and since then offers excellent jobs for Freshers and Professionals posted by top companies from all over India.
It is considered one of the trusted sites Because It is an old and large resource and offers thousands of jobs in different fields.
Website: www.careerage.com
7.

 FresherWorld
As the name suggests "Fresher", The portal offers fresher jobs, Applicants can find & apply for the Job vacancies in:
Government sector
IT, Software
Technical
Banking & Finance
BPO Jobs etc.
This is the best portal for freshers and Young professionals or job seekers. All the jobs offered by the fresherworld not mention high criteria (high-developed skills and outstanding experience) for jobs.
Moreover, Applicants look for the job under equal conditions. Fresherworld also offers tools and programs to improve the qualification and learn skills
Website: www.freshersworld.com
8.

 Placement India
Placement India is also known for India's best job search site. With the help of this Job portal, you can find best Job openings for freshers and Professionals in top MNC and Companies.
Among the top Best Job Search Websites, This job portal occupies leadership positions. Also, More than 12 million job seekers get help from this portal. It cooperates with 160000 corporate clients and has a well-developed network of companies that offer jobs.
Website:  www.placementindia.com
9.
Shine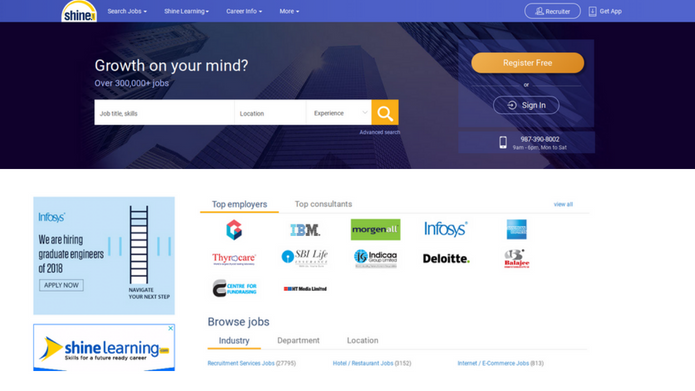 Recruit smart, recruit right. With shine get more than 300,000 of jobs opportunity. Shine is known as one of the leading job portals both for job seekers and recruiters.
It offers jobs for different industries and cooperates with the most reputable companies in India. It is very user-friendly. All you need to create a profile, Which is 100% complete in order to provide complete information to recruiters.
Website: www.shine.com
10.
Upwork
If you are a freelancer and want to grow your business go with Upwork (top freelancing website), that helps you to Grow your business. It assists you with all the level of service that works for you.
It is known for the world's largest online workplace where savvy businesses and professional freelancers go to work!
For this, You have to build a killer profile that grabs your client's attention. So do you create the Upwork profile that gets you, clients? If not check here.
Website: www.upwork.com
11.

JobSarkari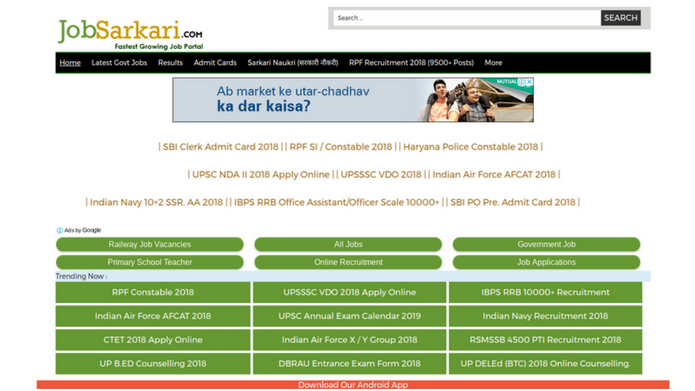 JobSarkari, This portal offers you, Sarkari Jobs- means government jobs. So, If you are looking for the government jobs JobSarkari is the best portal to go. 
It provides Latest Jobs and comes under Best Job Search Websites. Applicants can check Job Sarkari for Useful Genuine updates like New Vacancies, Registration and notifications about any government Sarkari job. 
12.

Glassdoor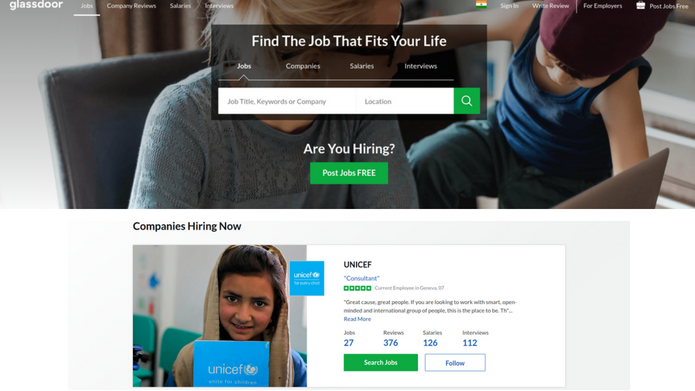 Before coming to topic Best Job Search website, Glassdoor is much more than that. It is a website where employees and former employees anonymously review companies and their management.
People search for jobs here by reading the employees experience and apply for millions of jobs.
Moreover, The website assists applicants or job seekers with free access to interview questions and salary information. Currently, there are millions of jobs available on the website.
13.

  Indeed
Find your dream job with Indeed, With Indeed applicants can search millions of jobs online to find the next step in a career. Indeed is an American worldwide employment-related job search website, founded in November 2004.
On this portal, 9.8 jobs added per second, Indeed.com does not take any fees from applicants for registration till recruitment process and best job search website to go with.
Anyone who has graduated 12th grade or holds a Masters Degree can sign up. And can get jobs that match their portfolio.
14.

FreelancerMyWay
Among those freelancer jobs sites, Freelancer also comes in a list that provides jobs information to job seekers.
On this platform, You can find and hire professional freelancers from all over the world. As well as work for many projects.
Projects are related to website and app programmers, graphic designers, logo designers, writers, data entry professionals, admin support, and more. It's the simplest, safest, and most affordable way to get work done online.
So, If you are looking for work From home Job or freelancing work this is the best portal to go with.
15.

Linkedin
This portal connects you with the boffin or intellect connections. So, Linkedin is both portal that connects business, startup, people and Provides employment-oriented service that operates via websites and mobile apps.
Linkedin, founded on December 28, 2002, and launched on May 5, 2003, and mainly used for professional networking,
As LinkedIn offers so many jobs for fresher as well as experience, All you need to make an eye-catching profile to get hired by recruiters.
Good Luck! 
 If you liked this article, then please subscribe to our YouTube Channel. You can also search for the latest tech news and follow us on Twitter, Facebook, and LinkedIn.