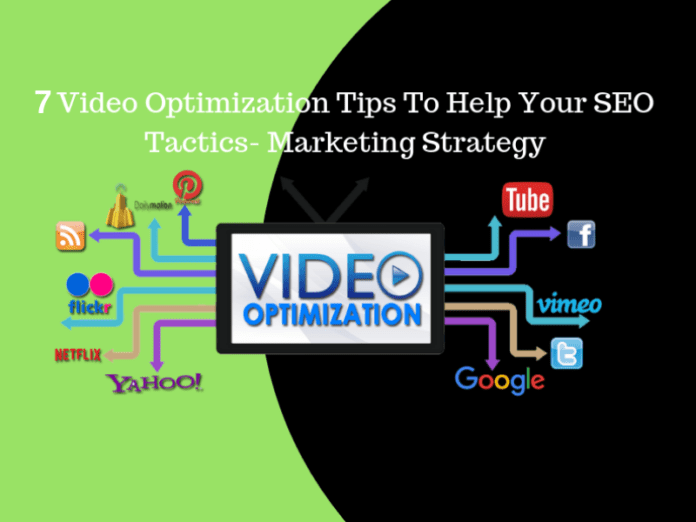 7 Video Optimization Tips To Help Your SEO Tactics- Marketing Strategy
---
It's a Proven Tactics that using a video on the blog increase your traffic, this results in a good Google Ranking. Among the Types of content Video is the great strategy to deliver information today and know as one of the most, influential communication mediums. According to the survey, we found that 80 per cent of web traffic will be video. So, Video Optimization is necessary for effective marketing strategy and growth of your content.
Now, In the age of internet or Digital media, the video is considered as the most highly consumed digital media. Moreover,  As eyeballs move online and videos become the choicest form of digital media. If you are running your own business and your business has not yet introduced a video marketing campaign, you are falling behind.
Once, you produce videos then the important step is optimizing that content for search engines. Because without video SEO or Video Optimization for business, your videos will not rank as high on YouTube, Google, and similar search engines.
We are using video content for different purpose like Live Videos, are being used by brands for streaming Q&A sessions, resolving customer concerns, handling product launches, product demos, etc.
Let's have an eye on 7 Video Optimization Tips:
7 Video Optimization Tips To Help Your Video Marketing For Search Engines
Mobile Optimization
Metadata
Video Sitemap
Share Video Content On Social Media
Adding Video to Website
Video Transcription
Engaging and Effective Thumbnail
1.

Mobile Optimization
As we all know, we surf the internet more on mobile devices because it is the fast way in comparison to a laptop or PC that takes 2-3 minutes to start.
Also, Mobile phones are budget-friendly and affordable to all, Even we have cheap talk time and Internet packs. Means Access internet is very easy.
Now sticking to the topic, A large portion of video consumption is on mobile devices. All you need to make sure that your website is responsive and that you are uploading videos to sites like YouTube and Vimeo. So, It is the best for Video Optimization or Video SEO.
2.

Metadata
Metadata is HTML code in a webpage that that tells the summary of the article to search engines. So what you need to do? While creating the video content, remember to check it once again. Further, Optimize the on-page metadata on all videos with the right set of keywords. Also, Stuff the Keywords in the title, description, and tags. It is as simple as optimising a Meta Title and Meta Description for blog post or page.
The aim behind stuffing the keywords in Meta Title, Meta description is ranking. Search engines will use this to identify and rank video results.
Search engines will assess the title, description, as well as tags (which should include targeted keywords) to better understand what the topic of the video is.
3.

Video Sitemap
Now, need for creating the sitemap, Which is very important. Because having a sitemap improves the SEO.
The functionality of Sitemaps is that its protocol allows a webmaster to inform search engines about URLs on a website that are available for crawling.
All you need to create a separate video sitemap If you create a large amount of video content and publish those videos to your website.
4.

Share Video Content On Social Media
Either you are sharing general information, Blog post or Video content. It is crystal clear that social media sharing definitely help you to reach heights.
Here we are emphasizing you to share video content across various marketing channels, such as social. The Social Media platform such as. Facebook( Also Called Giant of Social Media), YouTube, or Instagram and see what types of posts garner the most engagement.
5.

Adding Video To Website

Adding the video on websites has so many good reasons like the advantages of including informative, innovative and memorable marketing messages via video is an important way of attracting and engaging customers to your website.

Thus, adding a video on website catches the eyes of readers and makes them stay. So, We recommend to use add video content to your site, and not only to sites like YouTube and Vimeo.

Furthermore, It will help you to increase engagement, user experience on your site and results in good google ranking. As we know that video content is more engaging.
6.

Video transcription
Like one language translation in other languages, It is also the same technique in order to understand well. Video transcription, It is the process of translating your video's audio into text.
This will help search engine crawlers to get an idea about the content. Or Video transcriptions provide these crawlers with a better understanding of the content.  Now, This is done with automatic speech recognition technology, human transcriptionists, or a combination of the two.
7.

Engaging and Effective Thumbnail

As we know, Thumbnail used for a small image representation of a larger image, It gives a faster look of the video. One can easily understand the video content because of this thumbnail.

So, What you should remember? create an Engaging Thumbnail instead of using the default one.

Benefits of using a video thumbnail:
It makes users stay on the website.
More interaction with video.
As thumbnail comes in search results. Thumbnails especially helpful in a library with many media files, because they give viewers a preview of the video content.
Good Luck! 
 If you liked this article, then please subscribe to our YouTube Channel. You can also search for the latest tech news and follow us on Twitter, Facebook, and LinkedIn.