Xiaomi Mi 5S Teaser Points to an Impressive Benchmark Score – Specs and features
---
Xiaomi has started teasing its new Mi 5S smartphone. The Chinese smartphone maker on Monday released a teaser with a big 'S', hinting that the company is ready to unveil the Mi 5s on September 27. Xiaomi has revealed a teaser for its upcoming Xiaomi Mi 5S smartphone which suggests it will be a performance powerhouse. The promo shot features the number '164119' which is believed to indicate the device's Antutu benchmark score. If it's accurate, it would make it the Mi 5S highest scoring Android phone to date.
GizmoChina has put out a picture of Xiaomi's teaser, where number '164,119' is seen to be taking center stage. If reports are anything to be believed, this is the Antutu benchmark for Xiaomi Mi 5s. The teaser has Xiaomi's logo at the top right. A line wrote down below says, "What new high-end technology Xiaomi __S has in addition to performance." This teaser is an indication that rumours hinting at Snapdragon 821 processor and Apple iPhone-like 3D Touch might actually be true.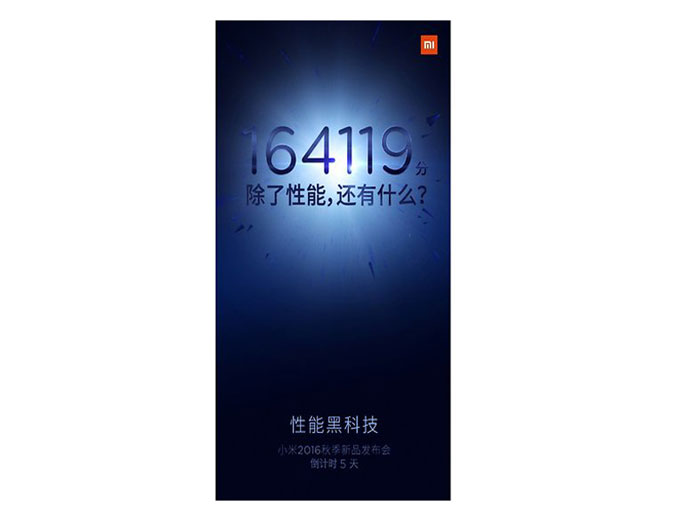 The Xiaomi Mi 5S will be powered by Qualcomm Snapdragon 821 processor, and sport a 5.15-inch display. It will have 6GB of RAM and 256GB of internal storage as well as 16-megapixel rear camera, and pack in a 3,490mAh battery with Type-C USB charging just like the original Mi 5.
The Xiaomi Mi 5S will pack Adreno 530 GPU for graphics performance and will run Android 6.0 Marshmallow with company's MIUI 8. Xiaomi Mi 5S will support two nano SIM cards.
Antutu's Android benchmark tool is used to give an indication of smartphone performance. As of August 2016, the highest performing handset on Android is the OnePlus 3 with a score of 140288.