The Witcher 3: Wild Hunt – Hearts of Stone
Hearts of Stone is the first add-on adventure for The Witcher 3: Wild Hunt it will be released on 13th October 2015 for all three major platforms: PC, PlayStation 4 and Xbox One.
Hearts of Stone is the first of two planned expansions for the critically acclaimed RPG, and it looks fantastic. The expansion adds over ten hours of new content to the game, including new characters, monsters and quests. There is even a new romance option, if you're into that sort of thing.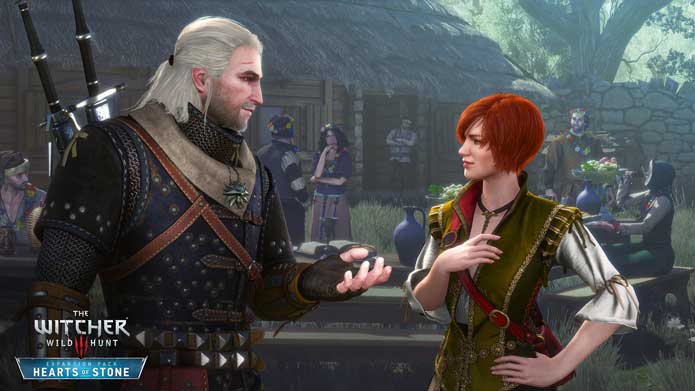 Hearts of Stone will take Geralt on an all-new, 10-hour-plus adventure into the wilds of No Man's Land and the nooks and alleys of Oxenfurt, where he'll try to complete a contract from the mysterious Man of Glass. Caught in a thick tangle of deceit, Geralt will need all his cunning and strength to solve the mystery and emerge unscathed.
Hearts of Stone expansion isn't changing the game in a major way – and that's not a bad thing. While they are introducing new upgrades called Runewords, which allow Geralt to combine the glyphs that buff his weapons for additional upgrades, it ultimately looks like this expansion focuses on delivering more of the excellent nonlinear storytelling that made Wild Hunt so good.
Step again into the shoes of Geralt of Rivia, a professional monster slayer, this time hired to defeat a ruthless bandit captain, Olgierd von Everec, a man who possesses the power of immortality. The expansion lets you choose your own way through an adventure that includes recruiting a crew of break-in artists, spending a night partying with a ghost and outsmarting the most bizarre creatures Geralt has ever faced.
The Witcher 3: Hearts Of Stone System Requirements
OS: 64-bit Windows 7 or 64-bit Windows 8 (8.1)
Processor: Intel CPU Core i7 3770 3.4 GHz / AMD CPU AMD FX-8350 4 GHz
Memory: 8 GB RAM
Graphics: Nvidia GPU GeForce GTX 770 / AMD GPU Radeon R9 290
Hard Drive: 10 GB available space