Punyakoti – First Sanskrit Animation Film with Ilaiyaraaja's Music
---
Punyakoti – is an Upcoming First Sanskrit Animation Film directed by Ravi Shankar V. The first Sanskrit animation film is based on a popular and beloved folksong from South India. Punyakoti will spread critical life lessons with the help of a Holy Cow. The story shows the conflict between man and animal. In the story, the holy cow is the main character. The movie carries the message of honesty and living in harmony with nature. The story is set in Karunadu, a village along the banks of Kaveri.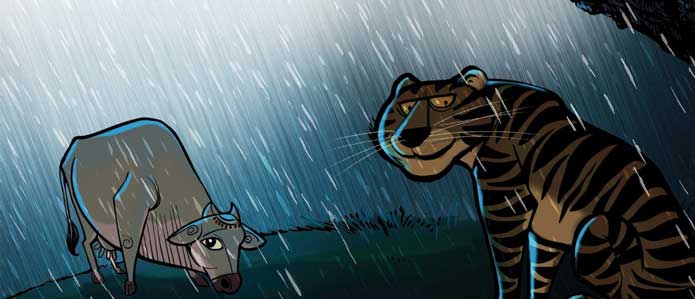 Based on the folksong of Punyakoti, One Day Punyakoti is attacked by a tiger in the forest. The cow requests some time as it has to feed its calf. Though it had a chance to escape after returning to its home, it remains honest and decides to go back to the tiger.
Punyakoti is a Crowdsourced Sanskrit Animated Movie. Currently, this first Sanskrit animation film has raised about 41,10,210 Rupees in crowdfunding. The idea of a crowd-sourced animation movie in Sanskrit has impressed legendary music composer Ilaiyaraaja.
Ilaiyaraaja is one of the finest music composers in India and has composed more than 5000 songs and provided film scores for more than 1000 films.
The reason for choosing Sanskrit is, Sanskrit is the most scientific language in the world. Its Grammar is perfected to work more like an algorithm, Sanskrit is the root of many Western languages including English – Shankar
The Punyakoti – India's First Sanskrit Animation Film is not just only for the Kids because the message of honesty and harmony it spreads is suitable for all ages of people.
"Just because it is an animation movie does not mean it should be for kids only. One thing different about Punyakoti is that it's not merely a children's film. Children today enjoy all kinds of movies so why should animation movies not be of high quality?" says Shankar.
No release date for Punyakoti has been specified yet but it is most likely to be completed in 2019.
For the latest news follow techcresendo on Twitter, Facebook, and LinkedIn