Moto 360 2nd Gen
---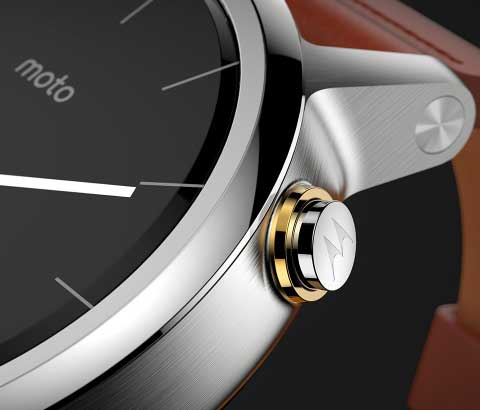 The second-gen smartwatch from Motorola – the Moto 360 2nd Gen – is set to hit the shelves and the wearable commands a reasonable price starting at Rs. 19,999 to Rs. 23,999.
Motorola's latest Android Wear watch can be customized to your liking at purchase time using the company's Moto Maker website. You can choose the Style, color of the bezel, the bezel treatment, case color and band type ( customizable option is not available in India).
The Moto 360 2nd Generation keeps you up to date without constantly grabbing your phone. Read Gmail messages and calendar invites at a glance, thanks to Android Wear™. See what matters while staying in the moment.
The Moto 360 2nd Generation now comes in two sizes: a 42mm model with 20mm or 16mm band, and a 46mm model with a 22mm band (slightly larger than last year's 45mm model). In addition to those two variants, there's also a second 42mm option with a slim 16mm strap, built  specially for women.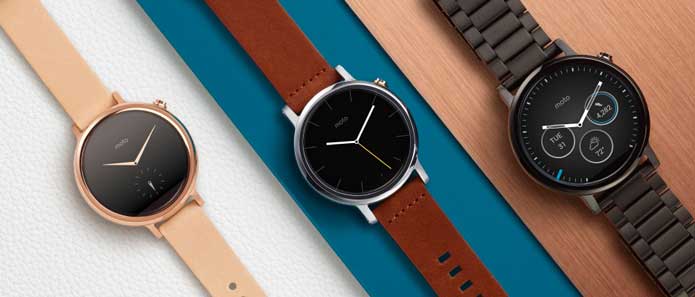 The Moto 360 2nd Gen looks largely the same as its predecessor, Motorola gave the internals a significant upgrade. The display has also been refreshed: Motorola opted for an LCD display rather than AMOLED. The 42mm Moto 360 2nd Gen model features a 1.37-inch display with a pixel resolution of 360×325, while the 46mm Moto 360 2nd Gen model features a 1.56-inch display and 360×330 pixels (263 pixels-per-inch and 233 ppi, respectively). The Huawei Watch has a sharper a 1.4-inch 400×400-pixel resolution display. The 46mm Moto 360 2nd Gen now features a 400mAh battery, up from the 300-320mAh on the last model, while the 42mm Moto 360 2nd Gen watch is rated at 300mAh.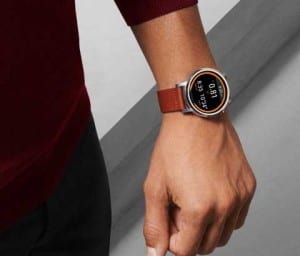 Sporting 512MB of RAM, 4GB of internal storage for apps and music and a 1.2GHz quad-core Qualcomm Snapdragon 400 processor, which is pretty standard for Android Wear watches. There's also Wi-Fi on board, so you can use the watch even if your iPhone or Android smartphone is left behind. It's just like what's in other recent Android Wear watches from LG and Huawei.
The Moto 360 2nd Generation and Moto Body app track your steps and distance, active calorie burn and "heart activity" minutes, which is essentially how many minutes you spend exercising.