How to earn with Digital Marketplace: Case Study
---
In summer 2017, we were astonished by the news about the launch of the TemplateMonster digital marketplace. What does this mean? From now on, every affiliate or web design studio can become a vendor and start selling exclusive and non-exclusive digital products to the growing web community.
One of the biggest benefits to join the marketplace is the possibility to sell exclusive and non-exclusive digital products from the same profile. The vendors are not limited in the number of items that they can upload and sell in the marketplace. Providing exclusive digital products is more profitable. Every sale will bring you the whopping 70% commission. Every non-exclusive digital product will bring you the 40% commission.
The marketplace was launched more than 6 months ago. So, we have decided to reach one of the most successful vendors for an interview. A small web design studio from Minsk, Belarus, has agreed to answer a couple of questions about their own experience of selling digital products at templatemonster.com. During the first 2 months since the moment they joined the marketplace, the web design studio managed to generate 300 sales. How? Here the story goes.
Interviewer: Hi, Alexander! It's a pleasure to talk about the success of your web design studio in one of the leading digital marketplaces. Could you please tell a couple of words about your team?
Alexander: Hi. We are a small team of 5. 4 developers are based in Minsk. Our web designer lives in Pakistan and works remotely. Whenever we need to discuss the details of the new project, we reach him via Skype. He is a talented guy who knows his craft masterfully.
Every member of our team is the self-taught professional. Most of us weren't engaged with web design for the biggest part of our life. As for me, I worked as a train driver for quite a long time before I decided to try my hand at web design.
Since the foundation of the web design studio, we worked from home. Just recently, we opened our own office and started to work from there. If you ask us about our ordinary working day, I need to assume that we do not have any set working hours. Whenever we receive some urgent orders o imply feel inspired to complete a new project ASAP, we can start the working day at 10 AM and continue until the sunrise.
Interviewer: What difficulties do you face when you only started to build sites?
Alexander: In the beginning of our story, we were building custom-made sites for our clients. To be honest, it took us too much time and effort to agree upon all details regarding each site that we made. At first, we created sites that were running on our own CMS. Later on, we decided to try building web projects with Magento and PrestaShop. We enjoy the results and decided to move further.
Building sites from scratch aren't cost-effective. Whenever we launched a custom-made project, a client requested to build extensions that could boost its performance even more. As the number of such requests started to grow, we thought that other customers may need them. So, we started to sell our modules on PrestaShop add-ons.
Interviewer: Now, you sell website templates in the marketplace. What was your first story of the theme creation?
Alexander: The more often the clients requested to build sites that did not require big investments, the sooner we came up with an idea to create several ready-made designs that we could offer to our customers. To our big surprise, they enjoyed what we did. Although the first website templates included only a few basic elements, it was enough to meet the web requirements back then. It took us a couple of days only to launch our first sites. So, we decided to continue working that way. If you compare the templates that we create today with our first design, then you will probably notice that we have made a huge step forward.
Interviewer: How do you know that you have chosen the right web development strategy?
Alexander: Whatever we do, we ask for the opinion of our customers. As soon as we decided to receive the growing number of requests to launch WordPress-based sites, we started to think about the launch of WordPress themes. We also enhanced our products with the intuitive visual page builder, which makes it way faster and effortless to customize the ready-made designs.
Interviewer: What's your experience of selling themes in the marketplace?
Alexander: TemplateMonster is not a new discovery for us. We knew about the platform long before it became a digital marketplace. In spring 2017, we received an offer to submit some of our products to the digital marketplace. We agreed and shared 2 themes. Surprisingly, during the first 2 months, we generated more than 300 sales.
The first theme that we submitted to the marketplace was Elbrus. This is a responsive WordPress template with a built-in visual page builder. Accompanied by the live customizer, the latter makes it really easy to modify the ready-made design code-free. The theme is intended to be used for a number of personal and business web projects. For a more impressive showcase of the content, the download package is integrated with the Slider Revolution plugin.
A clinic was the second WordPress theme that we added to the marketplace. This is a ready-made design suited to be used for medical and healthcare organizations. This is a multipurpose template with more than 10 homepage design variations. The theme is enhanced with a number of the ready-made sections, premium plugins, working forms, WooCommerce integration, and other features that are needed to launch sites worry-free.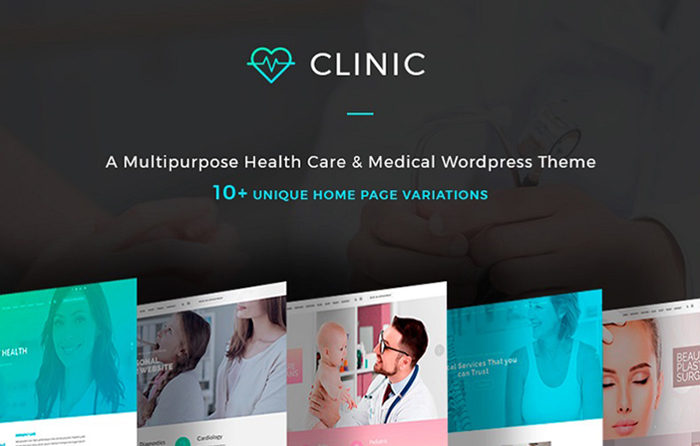 Interviewer: What next? What are your plans for the future? What recommendations would you like to give to the studios that want to join the marketplace?
Alexander: We will continue adding even more themes to the marketplace. At the moment, we have already submitted more than 50 designs. I believe that's only the beginning of our story at TemplateMonster. As for the recommendations to other webmasters, I think the top advice is never being afraid of trying something new. Believe in your success and the desired results and achievements will follow.