Nexus 6P presentation slide leak reveals metal body, 3450mAh battery, Fingerprint Sensor and more
The Nexus 6P and Nexus 5X are launching on the 29th of September in San Francisco, We are just one day away from Google's conference on Tuesday in San Francisco, where the company is anticipated to showcase its new Nexus hardware – the LG Nexus 5X and Huawei Nexus 6P – alongside an all-new Chromecast dongle.
The leaked slides confirm that the device will feature a 5.7" Quad HD display, with Corning Gorilla Glass 4 protection on top.
Unlike previous Nexus smartphones, the Huawei Nexus 6 will sport an all-metal unibody build, for a premium and sophisticated appearance.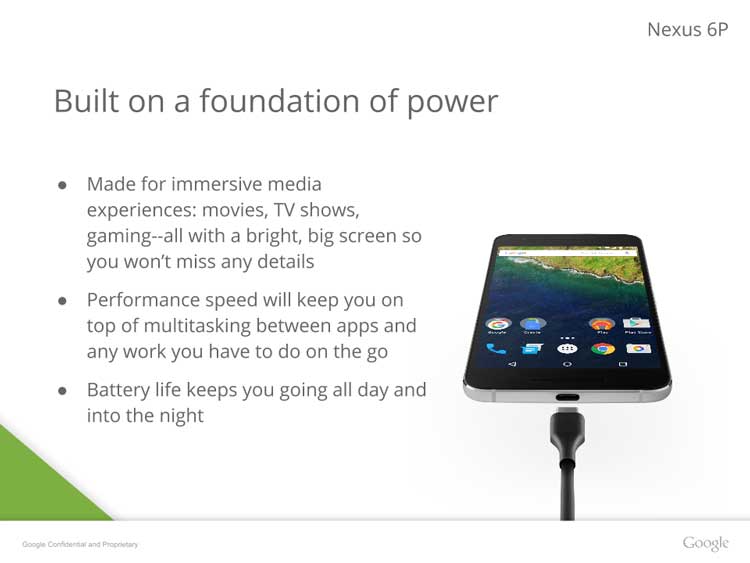 At the back, the device features a fingerprint sensor positioned above the Nexus logo, allowing users to unlock the phone with a single touch. The rear placement has apparently been 'designed to match a natural grip.'
the Nexus 6P has quick charging.
The latest slide details also mention the presence of a 3450mAh battery. The Nexus 6P will be an all metal phone, so there would most likely be no wireless charging feature.
Performance speed will keep you on top multitasking between apps and any work you have to do on the go.
The screen is an AMOLED that has a 2560 x 1440 resolution. That equates to a 518 pixels per inch.
In the presentation it's also claimed that the phone uses the Qualcomm

 

Snapdragon 810 v2.1 which is a faster, updated version of the 810. The numbering is confusing, but Anandtech explains it well. Essentially, V1 of the 810 was for engineering, v2 was the original version used in the first 810-powered phones, while the 2.1 version will appear in newer phones.
Huawei Nexus 6P is tipped to feature a 12.3MP main camera with f/2.0 lens and large 1.55 μM pixels, which are the reason for the snapper's fairly low resolution. Larger pixels will capture more light, thus giving the phablet's camera an edge in low-light scenarios.
The front-facing camera of the Nexus 6P will reportedly be an 8MP unit. It is said to feature 1.4 μM pixels.
As expected, the phone is expected to sport the USB Type-C connector for charging and data transfer. Also worthy of mention is the fingerprint scanner. We knew it was coming, but Google talks about using your fingerprint but also allowing your family to use theirs. It's not clear if that means that you're expected to enrol other people as normal, or if there's a profile-linked option that will let someone use a limited profile on your device.