Facebook's Doodle feature lets users draw on photos
Facebook unveils the Doodle feature on main app. An update to Facebook's iOS and Android app features a new way to personalize your photos: doodling.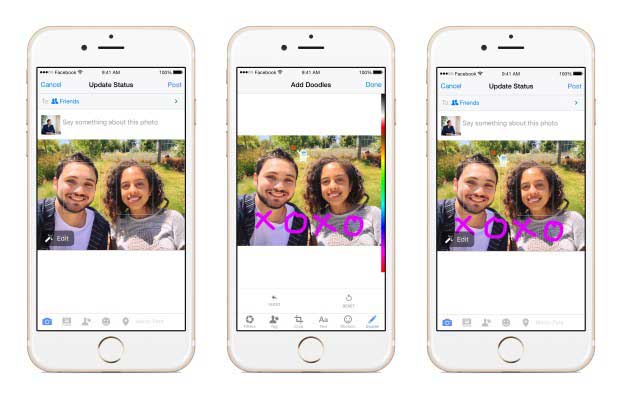 The Doodle feature , which has been available to users of the Facebook Messenger app since last year, is now available for drawing on pictures uploaded through the main Facebook app as well. Users can now choose to edit and draw on pictures before posting them to their Facebook profiles using the primary app itself.
The Doodle feature , reminiscent of similar features found on Snapchat, joins the built-in filters, text overlays and stickers users can add to their pictures through the Facebook app.
To use Doodle feature on pictures, users simply choose a picture to upload, then hit the edit button and choose the Doodle tab. It's possible to customize the Doodle by changing the colour and pen size, and you can draw or write on pictures. To choose the color, users can slide their finger up and down the color palette, and change the pen size from by sliding their finger left and right. Users can draw attention to parts of a picture with a splash of color, add in a small doodle to illustrate a point or even create a new illustration on top of the uploaded picture. This can be used to draw attention to different parts of picture, or simply send a message.
While the Doodle feature is not available for desktop, it has rolled out on the main apps for both iOS and Android app users. Previously, the Doodle feature was exclusively available for the platform's messaging app.