Backup Your WhatsApp On Google Drive
WhatsApp for Android now plays nice with Google Drive, letting you create a private online backup of all your data from the Facebook-owned chat service. The app will let you backup your entire WhatsApp chat history, including voice messages, photos, and videos, to Google Drive, giving you peace of mind that your data is safe.
Google has officially made the announcement on its blogpost and said that Android users can now created "private backup of chat history, voice messages, photos, and videos in Google Drive."
Once you create a Whatsapp Backup to Google Drive, you can restore everything on a new device with just a couple taps. The new backup feature will be rolling out over the next few months, and will appear in your WhatsApp settings once it's available.
The advantage of Whatsapp Backup on Google Drive is that once you switch phones or your old phone dies unexpectedly, at least your WhatsApp chats will be saved.
How to Backup Your Whatsapp on Google Drive
Download and Install the WhatsApp version (2.12.303) from the company's website
open WhatsApp
tap on three-dots on the top right corner- Settings
Under settings, Tap on Chats and Calls
Chat Backup
you'll see Last backup & Google Drive Settings.
select a backup frequency other than Never.
select the Google Account (either from the ones already added, or you can add one too).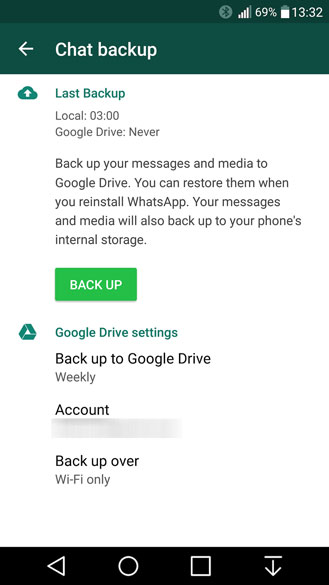 Tap on Back Up to begin your Google Drive backup. This process may take a few minutes.
Restore Whatsapp Chats from Google Drive
In order to successfully restore a Google Drive backup, you need to use the same phone number and Google account used to create the back up. Then, follow these steps to restore your backup:
Make sure the same Google account that was used to perform the backup has been added to your phone.
Uninstall and reinstall WhatsApp.
After verifying your number, you will be prompted to restore your messages and media from Google Drive.
After the restoration process is complete, tap on Next and your chats will be displayed once initialization is complete.
After restoring your chats, WhatsApp will begin restoring your media files.