Adobe Premiere Clip brings its video editing capabilities to Android
---
Adobe has launched Premiere Clip for Android plateform. Adobe Premiere Clip launched on Apple iOS around one year ago, and an Android version of Premiere Clip has made its way into the Google Play Store. Adobe Premiere Clip is all about adding that polish before you can upload your videos online.
Premiere Clip offers up an easy-to-use video editing platform where you can piece together your videos or other projects. The Premiere Clip will let you sync a soundtrack, add slow-motion effects, adjust the lighting, and perform other acts of video editing with content on your Android device.
The Adobe Premiere Clip is powered by Creativesync. Adobe CreativeSync ensures that your files, fonts, design assets, settings and more all instantly appear in your workflow wherever you need them.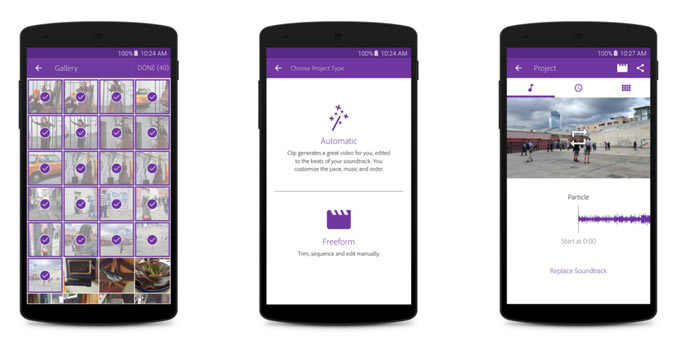 Additionally, the Premiere Clip can automatically creates videos by pulling together your own photos and recordings from media stored on your phone, which can then be shared to your Social accounts – Facebook, Twitter and YouTube. The Premiere Clip will also attempt to match your images with royalty-free songs or music from your own library.
You can even take the clip back into Adobe Premiere Pro CC on your desktop PC to edit it further. The Premiere Clip app is free, though you'll need a Creative Cloud subscription in order to sync your work across devices.
The Adobe Premiere Clip app is supported with Android 4.4 and higher. The Premiere Clip is only on phones for now, so you'll have to wait if you want to do some video work with Premiere Clip on an Android tablet.
You can get the Adobe Premiere Clip now from the Google Play Store.