Ulo – An interactive home monitoring owl
---
French designer Vivien Muller has created Ulo – a little surveillance owl – a security camera shaped like a little owl with a variety of functions and expressions, that can be controlled through your smart phone. It is launched through a Kickstarter's campaign.
It is a latest creative tech innovation in the ever-growing list of IOT (Internet of things).
Ulo is an adorable home monitoring system or surveillance tool, which interacts through its eye expressions. A webpage allows you to customize the color, shape and size of the eye according to your choice. Two round LCD screens will show the Eye expressions, the LCD screens originally manufactured for next-generation android or apple smartwatches.
Ulo will happy, If there's a birthday on your calendar today. If you have an appointment, then Ulo is puzzled (You shouldn't be home).
Ulo will blinks when you take a snapshot and sends it on a secure webpage, dropbox account or directly on your connected email.
When Ulo's battery is under 10%, this little surveillance owl will show a tired expressions. In everyday use, Ulo needs to be recharged every two days or you can also leave Ulo plugged in all time on a USB port.
This little surveillance owl streams directly on a secure webpage, helps you to check what is going on in your home while you are away. It is compatible with every device, gadget with an internet connection and a browser. It's services are accessible on it's secure webpage.
A double tap on its forehead will activate the Alert Mode. Once your smartphone leaves your wifi network, every movement will be recorded in an animated GIF and sent via email. A single tap on its forehead will turn OFF the Ulo.
You can easily place it on a surface or can hanged it on a wall. A set of discrete adhesive neodymium magnet allows you to stick Ulo on every surface effortlessly.
It only sends data to your secure devices, each device which is connected to the Ulo has its own password and a second step authentication. A QR code is generated when your device connects for the first time, you just have to show the code to this little surveillance owl.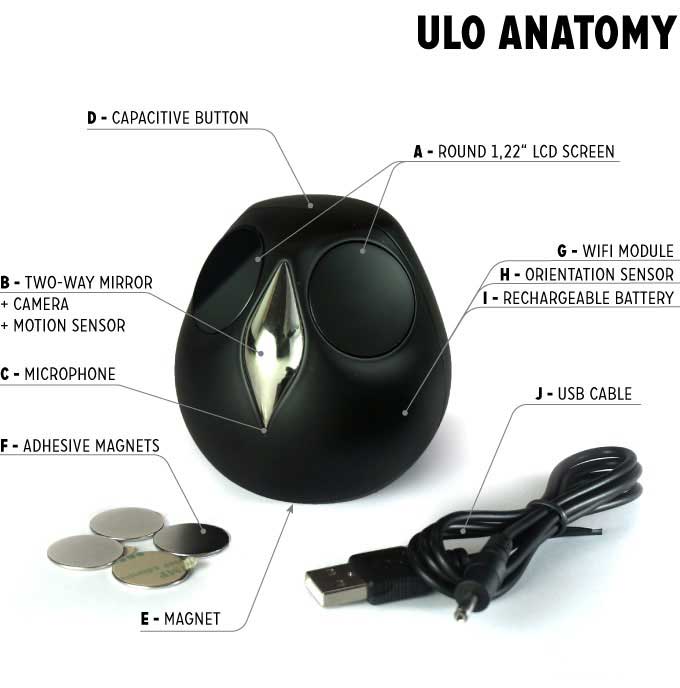 A – 2 Round 1,22" LCD screen (originally used for smartwatches)
B – 1 Hidden surveillance camera (720p HD) & Motion Sensor under the two-way mirror beak
C – 1 Mono Microphone
D – 1 Capacitive button
E – 1 Neodymium magnet under the rotative base
F – 4 Adhesive neodymium magnets (⌀20mm/⌀0.8in)
G – 1 Wifi 802.11ac module
H – 1 Orientation sensor
I – 1 Li-Po rechargeable battery
J – 1 USB to 3.5mm Barrel Jack cable (65cm/25.6in)
We were very much impressed by this latest creative tech in the age of IOT. We wish more tech innovations like this should be happening all around the world in field of tech so that tech is not just limited to geeks and techies rather utilized by common man in everyday life.
Ulo – A little surveillance owl