Kickass Torrents is come back again, run by original staff members
---
After its much-publicized shut down in August with its boss allegedly being arrested by the US Justice Department in Poland, Kickass torrents is back. According to a TorrentFreak report, a group of the original staff, which first brought the community part of the site back at katcr.co, have now relaunched the infamous torrent site at katcr.co/new, with the same look and feel as the original. We tried accessing the new Kickass torrents website and it finally loaded after few attempts which indicate that the website is now under huge traffic.
"We have all our major uploaders on board and they continued to share tirelessly even before the torrent engines returned. The torrent community can continue to expect to see uploads from all the names they know and trust," the Kickass torrents (KATcr) crew was quoted by TorrentFreak. "The majority of our original Staff, Admins, and Moderation team joined us after Kat.cr went down – which is something we're very proud of. This shows the loyalty, dedication and real love for KAT that we all share," they added. The team added that they faced several issues in putting the website again in working condition. However, this time around the team has made additional efforts to just keep "safe elements".
Thanks to a special request from team members, the Kickass torrents website has also pinned a YouTube link to Rick Astley's famous track Never Gonna Give You Up – we assume this is a message to the community suggesting that Kickass Torrents is here to stay.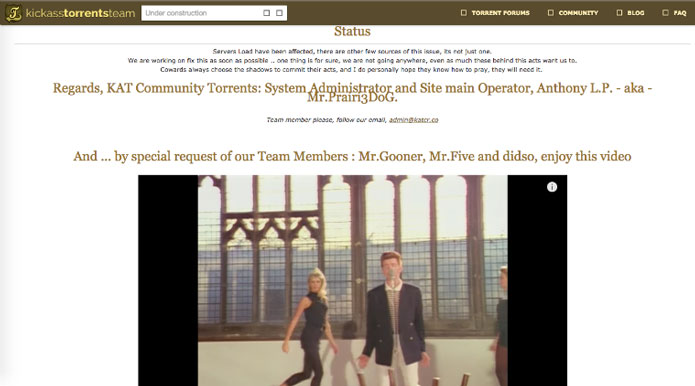 The team pointed that they now come under a similar takedown procedure as YouTube which means that Kickass Torrents won't store copyrighted material on the website.
"In order to keep our members safe we chose to rebuild and keep only safe elements. Despite the fact that a rebuild took longer, the safety of our community comes first," the KAT team said.