A Beast From Asia – The Bluboo Picasso is ready to enter with the great feature in the telecom world
---
A Beast From Asia – The Bluboo Picasso is vague, With affordable Price and with Ultra-performance the Blueboo Picasso is Ready to Entre With Great Feature in the telecom world!
Bluboo has been relatively quiet since we got wind of the Bluboo Xfire 2 earlier this year. We've last had a moment to take a deep breath what with MWC and the recent Bluboo Company officially unveiled the model of Picasso, Bluboo Picasso launched a cost-effective entry-called new machine. who is not only honest equipped hardware but put him in a very ultra-budget price and potential buyers a choice of a wide variety of colors, it does not use metal under glass and faceted glass rather differently corrugated plastic. Bluboo claims that Picasso is very pleasant to the touch.  Picasso is gonna be world's first blue-light eye-protection featured smartphone, on-cell technique
Now this beast is ready to give a very hard competition With Great style & Feature. Picasso insists the concept of "less is more" all the way, and the concept is developed and expressed deeply on Picasso.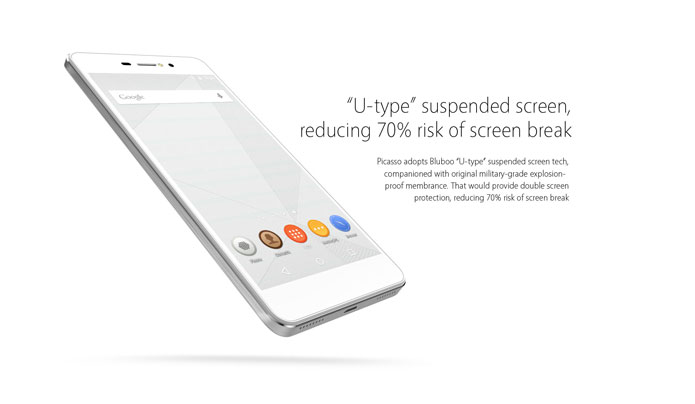 Bluboo tries to make the most concise TP. For match this HD on-cell IPS OGS screen, Bluboo spend much time to adjust the design to make the screen ratio up to 80%, just to provide consumers better display experience they can have on a high-end smartphone. And this change and progress on screen ratio are a strong step in the design of phone inner structure.
8 key selling points of Bluboo Picasso –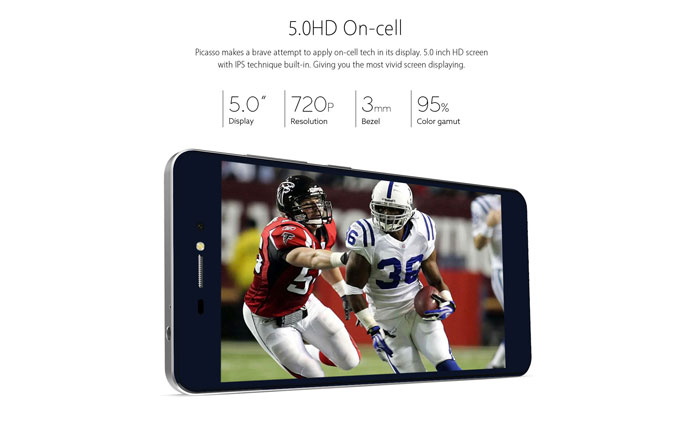 Non-physical buttons, 1:10:1 body proportion, minimalism style.
 HD/ On-cell/ OGS display, 170° view-angle.
Dual 8MP camera, front fill-light and rear dual LED flash
Extreme great tactility, diamond-cutting texture, 3D ergonomics arc, 1000 nanoscale close grain.
6mm visual ultra-thin body brushed metal style frame.
Inner zinc alloy skeleton, 85% body sturdiness improvement
"U-type" suspended screen, 70% screen breaking risk reduction
Deeply customized UI for single-hand controlling, built-in 8 optional themes
On the Specs, the Bluboo Picasso features a 5.0 inch HD 1280x720p OGS IPS display. The smartphone is powered by the MT6580 Quad-core 1.3Ghz chipset with the 2GB of LCDDR3 and 16GB of internal storage. The Bluboo Picasso sports an 8-megapixel front camera with fill-light and an 8-megapixel rear camera and 2500mHA Polymer battery complete the package.