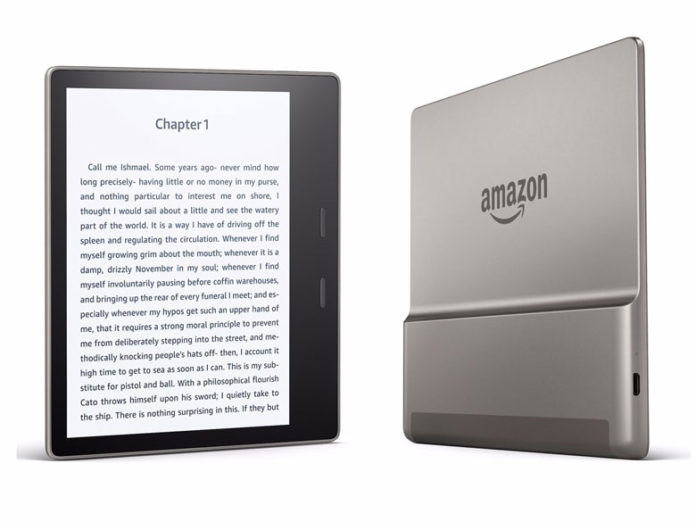 Kindle Oasis: Amazon finally launches a $250 waterproof, 7-inch e-reader with metal chassis and Audible playback
---
Amazon introduced a revamped version of its high-end Kindle Oasis e-reader on Wednesday. The new device will remain the highest-end model in Amazon's popular Kindle series. While the new Amazon Kindle Oasis tablet looks a lot like its predecessor, it has one important new feature: it's waterproof.
Priced at $249.99, the new Amazon Kindle Oasis is now available for preorder. It begins shipping to customers at the end of the month, on Oct. 31.
The reader now has a 7-inch e-ink display, a full inch larger than its predecessor. Amazon says the display will still sport 300 pixel-per-inch density, so text should be just as sharp as before. Improved internal hardware also allows for the fastest page turns of any Kindle e-reader. The new Oasis is IPX8 rated, which means you should be able to submerge it in 6.5 feet of water for up to 60 minutes.
Amazon has also increased the number of LED backlights from 10 to 12, so now the screen should be brighter than before, while also being able to dim itself automatically when needed thanks to the return of the ambient light sensor.
Amazon says the new model trades last year's plastic for a mostly aluminum finish, though, so it may feel a little more premium. The device has become a little bit heavier in the process, jumping from 131 grams to 194 grams, but Amazon says it still measures a slim 3.4mm at its thinnest point.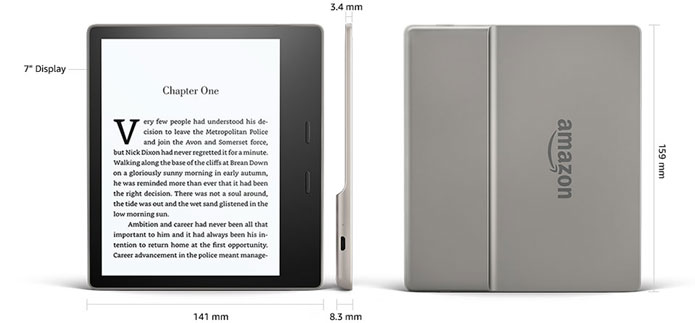 The big new feature for the Amazon Kindle Oasis is the integration of Amazon's Audible audiobook service, the first time for a Kindle device, which allows readers to seamlessly switch between audiobooks and ebooks, maintaining their position in the story if they own both formats of a particular book using the Whispersync for Voice service.
The entry-level $250 Amazon Kindle Oasis features 8 gigabytes of storage, doubling that of the first Kindle Oasis. Capacity can be increased to 32 gigabytes for $280.
You can also buy several cases to go along with the Amazon Kindle Oasis in two different materials: Leather and a water-safe fabric. The leather cases come in burgundy, gray, and tan and will cost $60, while the fabric cases cost $45 and come in gray, blue, and white.